A rare rain for some, but overall dry and mild fall for all
27 November 2021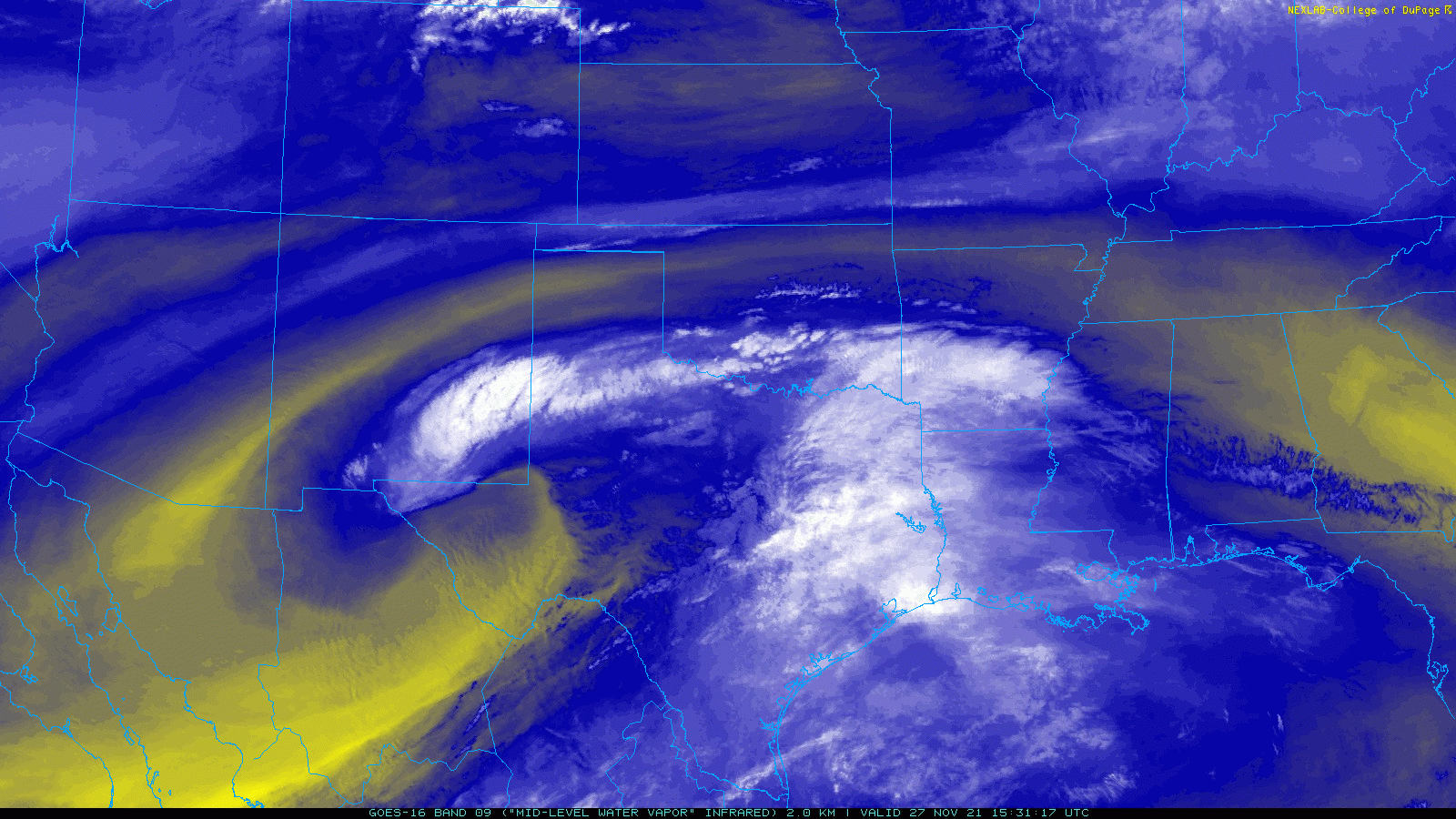 Water vapor loop valid from 9:31 am to 11:21 am on 27 November 2021.
The approach and passage of a strong, but moisture-starved, mid-level storm system brought rain to much of the central and southern South Plains and Rolling Plains on Saturday, 27 November 2021. Strong lift and decent mid-upper level moisture overcame lingering very dry low-levels to provide the rare late-fall rain in spots.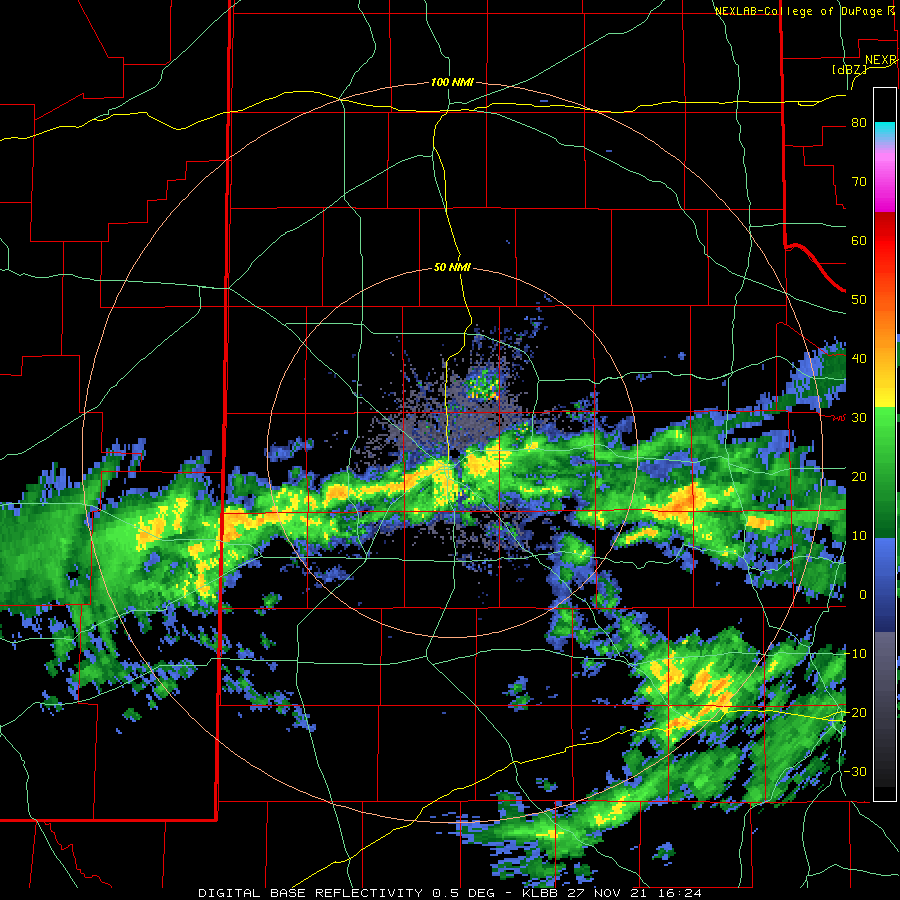 Lubbock WSR-88D base reflectivity loop valid from 10:24 am to 7:33 pm 27 November 2021. A regional radar animation, valid from 9:40 am to 9:58 am on the 27th, can be VIEWED HERE.
The lift was maximized in a band across the central South Plains during the morning and early afternoon hours, before it shifted southward and faded in the late afternoon and evening. The central and southern Rolling Plains saw the band of rainfall peak during the mid-late afternoon hours, though rain lingered into the evening across the southern Rolling Plains. Further north, across the Texas Panhandle and northern South and Rolling Plains, the dry air proved to be too much to overcome and dry conditions persisted.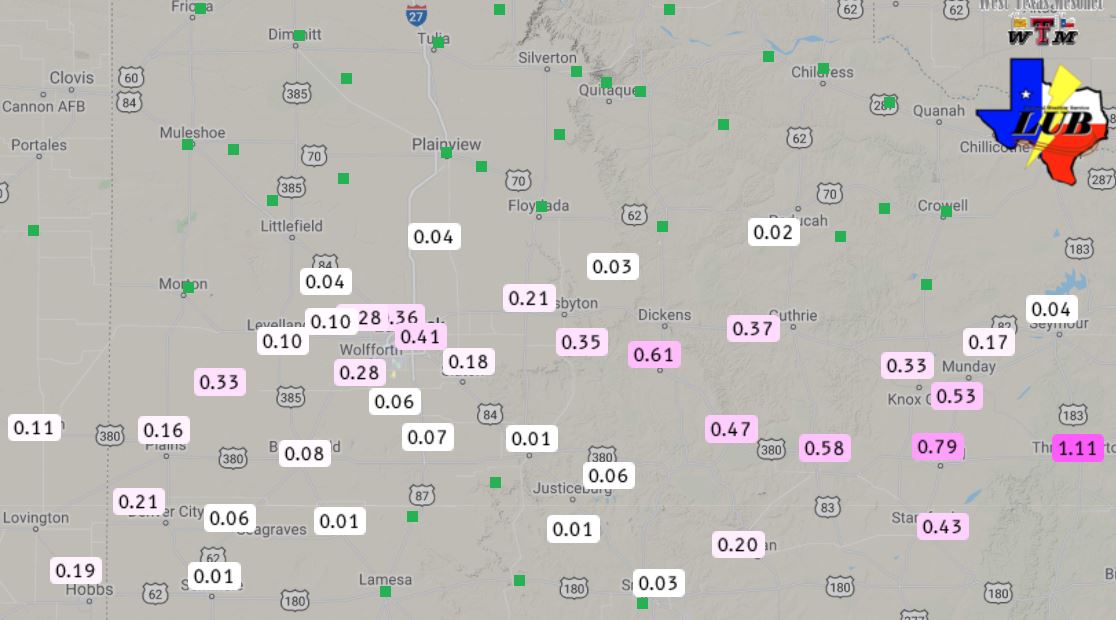 48-hour rainfall ending at 11 am on 28 November 2021. The data are courtesy of the West Texas Mesonet. Radar-estimated rainfall over this same stretch can be FOUND HERE.
Where the band of rain lingered, a swath of 1/4" to 1/2" was common from near Sundown to Lubbock to south of Crosbyton. Even higher totals, in excess of a half inch, fell over parts of southwest Dickens County, northeastern Kent County and much of Stonewall County. Where the rain did fall, it was the first meaningful precipitation of the month.
90-day radar-estimated and bias-corrected percent of normal rainfall through 6 am on 28 November 2021. The 90-day radar-estimated rainfall over this same stretch can be VIEWED HERE.
The rain was a rarity for West Texas this fall, as the above graphic illustrates. Outside of late September and early October, when the region experienced widespread showers and thunderstorms, rain has been very difficult to come by this fall. Altogether, the past 90 days (through the morning of November 28th) have provided only a fraction of the average fall rainfall. Officially, Lubbock has recorded 1.61" of rain over the course of September, October and November, which is about 33% of average. The three-month stretch will finish as the 9th driest on record at Lubbock. For reference, the driest September-November on record occurred in 1979 when 0.89" fell.
The dry conditions have also corresponded to a rather mild/warm fall. From September through November 27th, Lubbock has recorded its second warmest average highs (79.9˚F), below only 1934 (81.1˚F). Average low temperatures for this same stretch are the 10th warmest on record, resulting in the 5th warmest overall mean temperature.