Unsettled end to September and start to October
27 September - 1 October 2021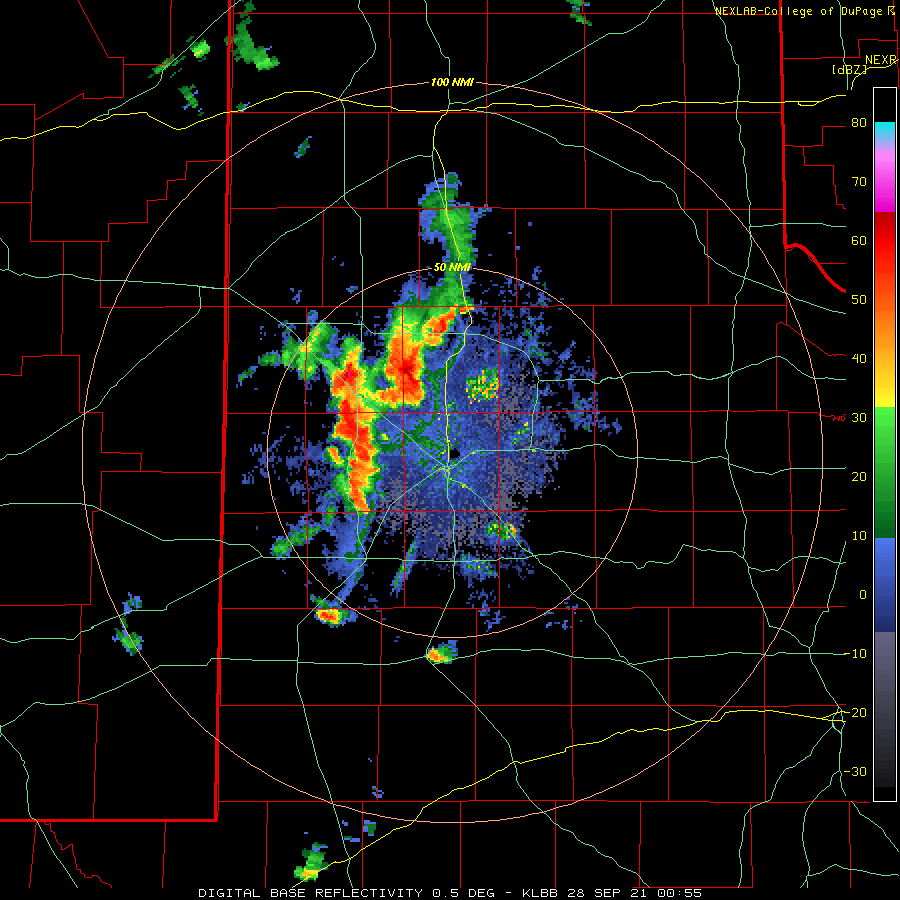 Lubbock WSR-88D base reflectivity loop valid from 7:55 pm to 12:08 am 27-28 September 2021.
The month of September provided plenty of warm to hot days and an extended period of dry weather. The pattern finally shifted late in the month, bringing a return to unsettled weather for West Texas. Monday, September 27th, brought the first bout of precipitation. Isolated showers and thunderstorms traversed the South Plains through the morning and early afternoon, followed by more robust t-storms during the late afternoon and evening hours. The storms organized into a line as they moved across the northern and central South Plains through the evening hours. The most intense storms generated wind gusts in excess of 60 mph near Amherst, Lubbock and Abernathy.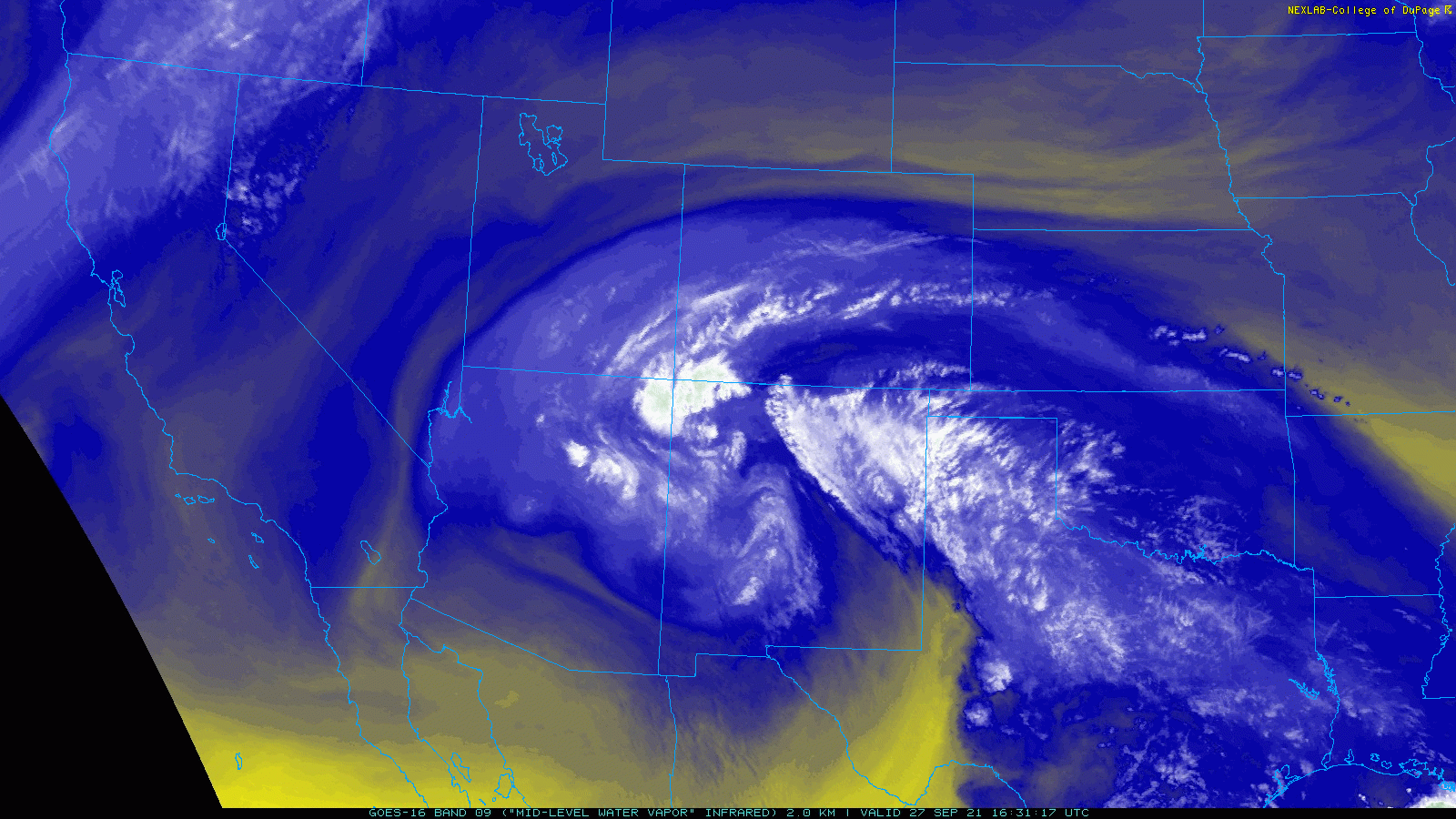 Water vapor loop from 11:31 am to 9:31 pm 27 September 2021.
The active end to September was inspired by a well-developed upper level storm system that approached via the Four Corners. Even though there was a relative dearth of low-level moisture, the upper level low was strong enough to squeeze out impressive rain totals, in excess of an inch, over parts of southeast Hockley and western Hale Counties.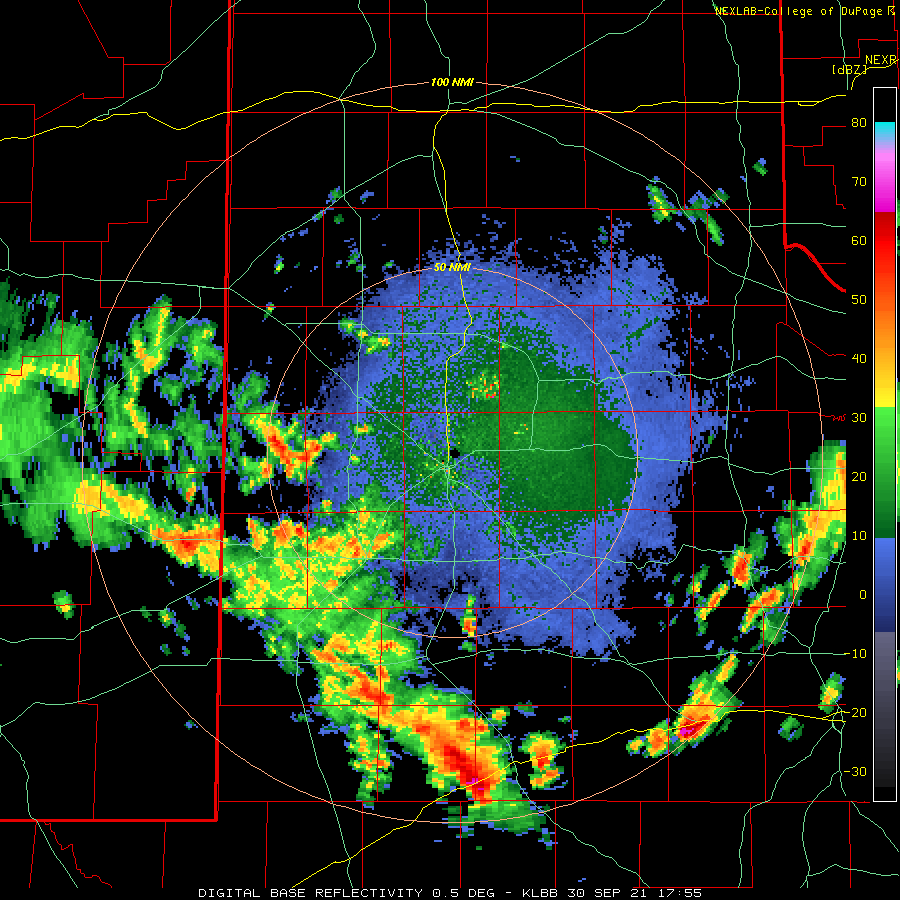 Lubbock WSR-88D base reflectivity loop valid from 12:55 pm to 5:01 pm 30 September 2021.
Spotty showers and thunderstorms redeveloped, primarily off the Caprock, Tuesday afternoon (October 28th), before the storm system weakened and shifted to the east. A lull in activity followed midweek, but it didn't last very long.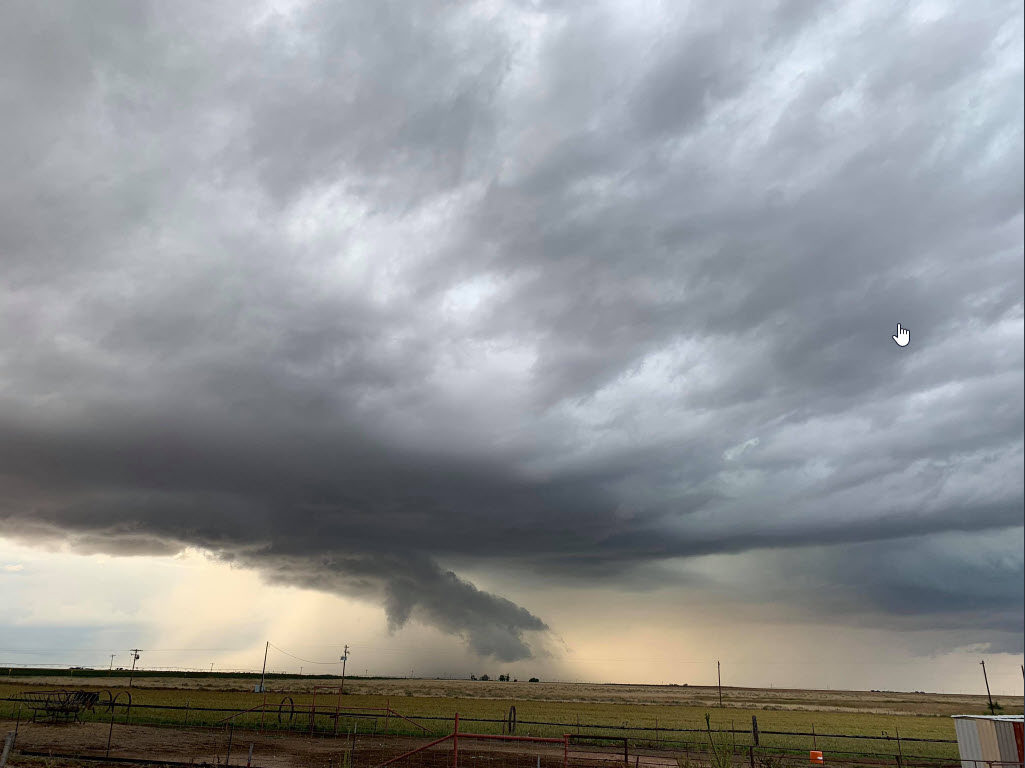 Base of a thunderstorm near Morton, TX, Friday evening (1 October 2021). The picture is courtesy of Floyd Taylor (relayed by Jacob Riley).
Another storm system, following quickly on the heels of the previous system, dropped in the Four Corners. By the time this system arrived, better low-level moisture had moved into northwest Texas. The moisture provided the fuel for intense storms that produced areas of heavy rainfall. Showers and thunderstorms initially developed along and ahead of an early-day cold front across the northern Permian Basin late Thursday morning into the afternoon (September 30th). One morning t-storm dropped hail as large as quarters near Andrews while also generating a wind gust of 62 mph at the nearby West Texas Mesonet (WTM).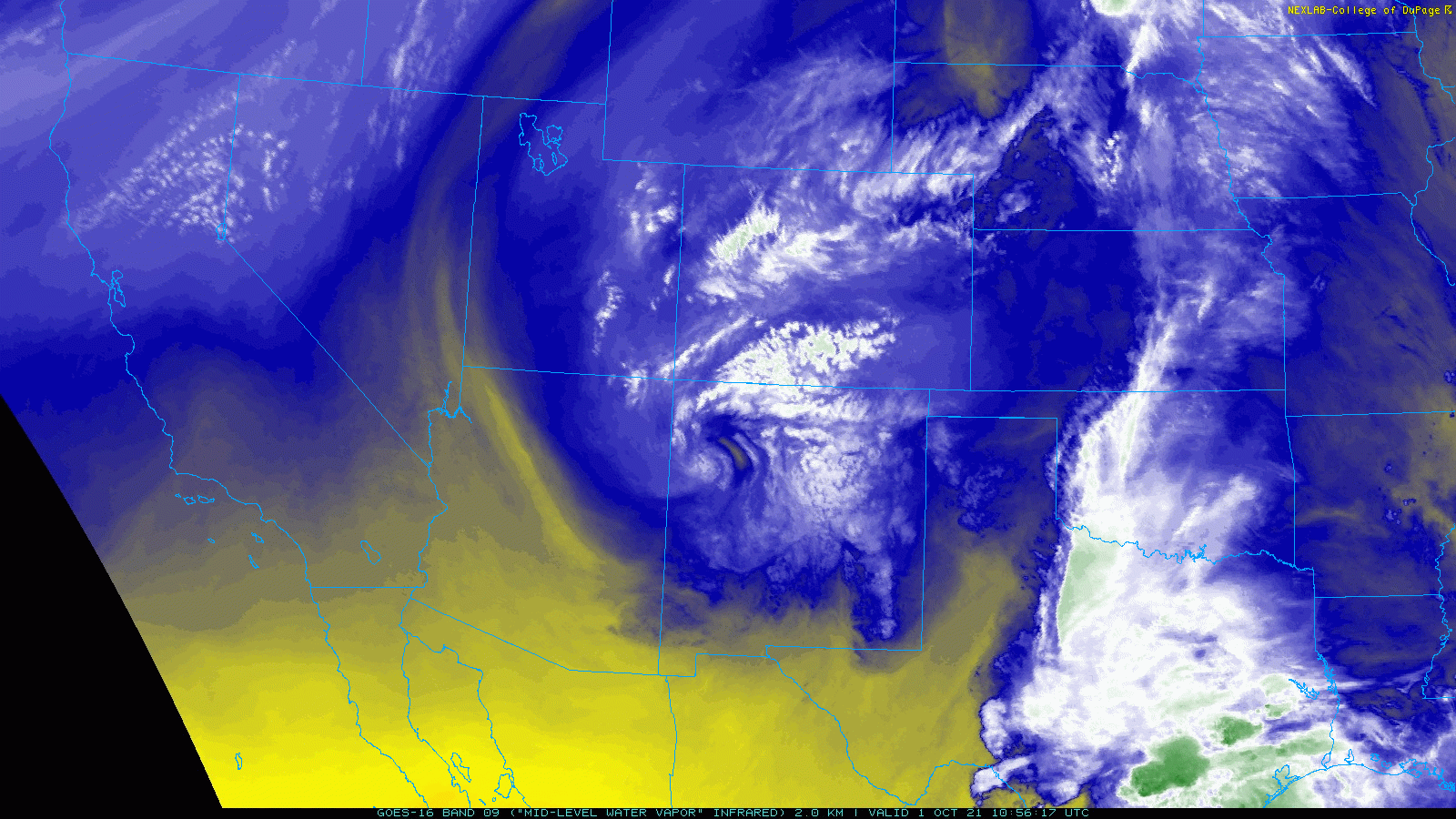 Water vapor loop from 5:56 am to 6:31 am 1 October 2021.
The showers and thunderstorms spread northeastward over much of the South Plains and Rolling Plains through Thursday afternoon and evening, eventually affecting the southern Texas Panhandle too. The storms weren't severe as they moved across the South Plains region, but they did drop brief heavy rain in spots. Nearly everyone saw at least a little rain, while several locations recorded totals near and in excess of an inch.
Lubbock WSR-88D base reflectivity loop valid from 8:41 pm to 10:18 pm on Friday (1 October 2021). Additional radar animations can be viewed at: 9:14 am to 6:20 pm on Friday; 5:26 pm to 8:00 pm on Friday; and 7:05 pm October 1st to 4:24 am on October 2nd.
Scattered showers and a few thunderstorms lingered well into Thursday night, with additional rain showers and embedded thunderstorms spreading out of eastern New Mexico into the western and central South Plains Friday morning (October 1st). A final round of lift associated with the ejecting upper level storm system sparked a concluding round of thunderstorms. This activity developed across the southwest Texas Panhandle and western South Plains late Friday afternoon, then organized into a line as it spread eastward over the remainder of the South Plains and Rolling Plains through the late evening and overnight hours. The strongest of these storms produced small hail and torrential rain in spots. One storm dropped 0.70 inches of rain in 7 minutes as it passed over the Vigo Park WTM Friday evening, an impressive 6 inch and hour rain rate. Thankfully, the storms moved fast enough to mitigate the overall flooding threat.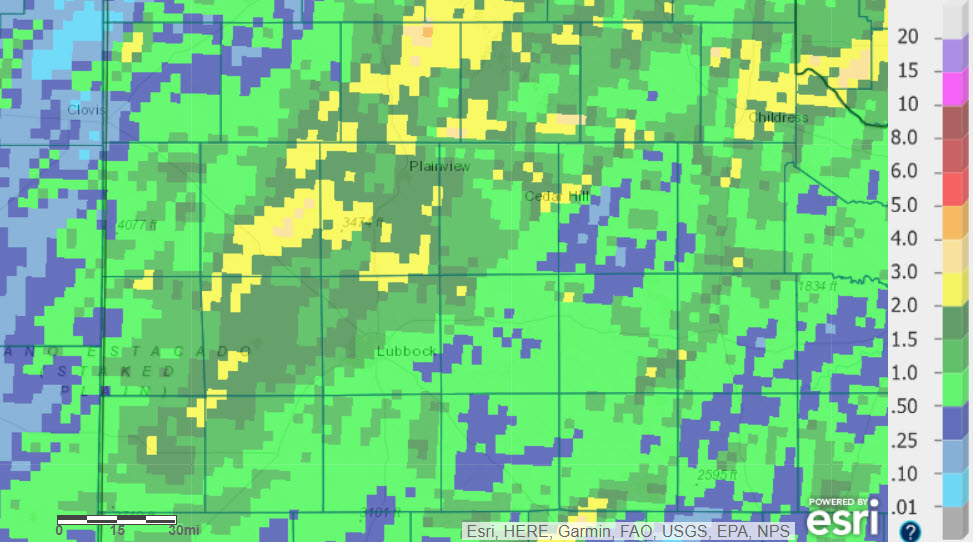 7-day radar-estimated and bias-corrected rainfall ending at 7 am on Saturday (2 October 2021). The same information, but expanded to include all of Texas, can be VIEWED HERE. The 5-day rain totals ending at 4:30 am on the 2nd, measured by the West Texas Mesonet, can be FOUND HERE.
Between September 27th and October 1st, the entire South Plains region and nearly the whole state of Texas recorded rainfall, with many locations seeing significant totals. Rain totals of 1 to 2+ inches were common for a good chunk of the South Plains and southern Texas Panhandle, with similar spotty totals in the Rolling Plains. The Olton WTM was the big winner, measuring 3.35 inches over the unsettled stretch. Officially the Lubbock Airport recorded 1.16 inches over the 5-day period. The rain boosted Lubbock's year-to-date rainfall to 19.90 inches, or 4.59 inches above normal through October 1st. The widespread rain also helped to squash the reemerging drought.
The preliminary storm reports collected over this fall stretch can be found below.