Mid-August brings widespread rainfall
13-14 August 2021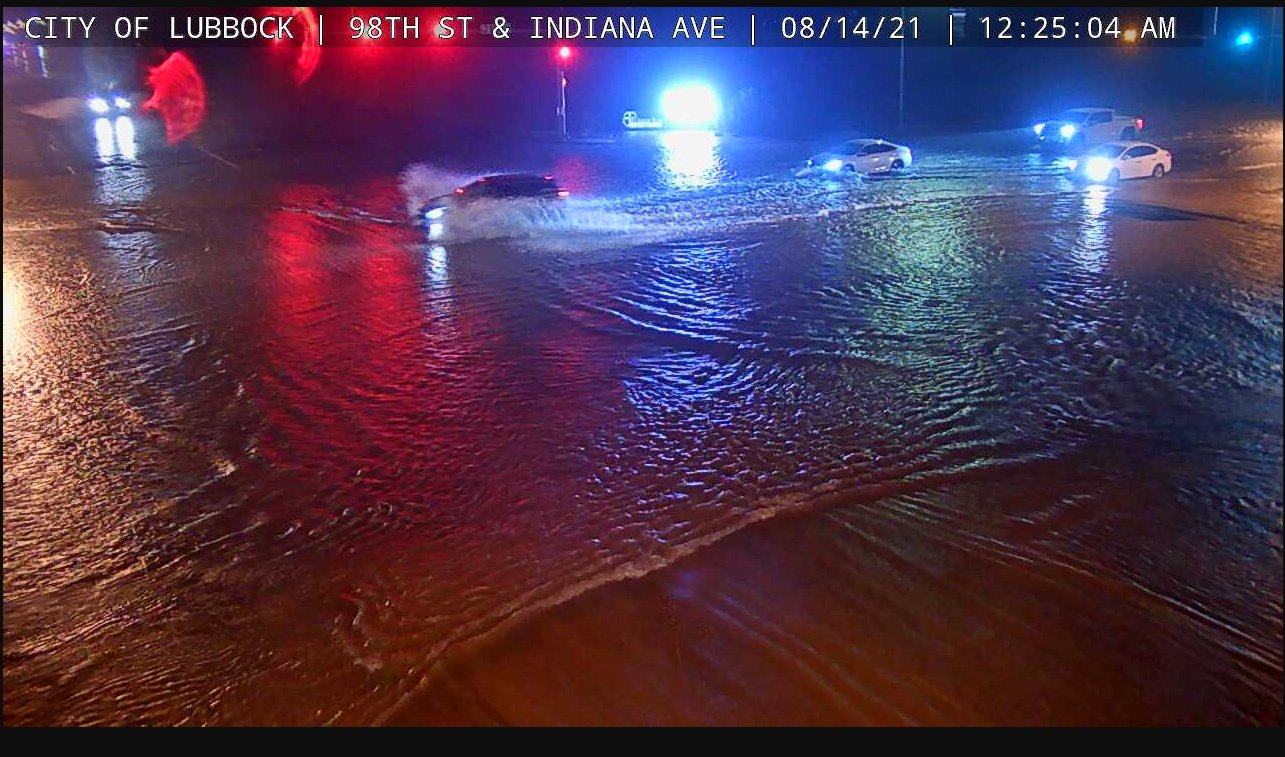 Street flooding in south Lubbock early Saturday morning (14 August 2021). The image is courtesy of the City of Lubbock.
Bountiful amounts of low-level moisture working in tandem with strong daytime heating, a fetch of monsoonal moisture aloft, a couple of weak embedded disturbances and residual boundaries resulted in the development of widespread showers and thunderstorms Friday afternoon and evening (13 August). One storm did produce a 63 mph wind gust at the West Texas Mesonet site near Lesley. However, moderate to heavy rain was the primary impact.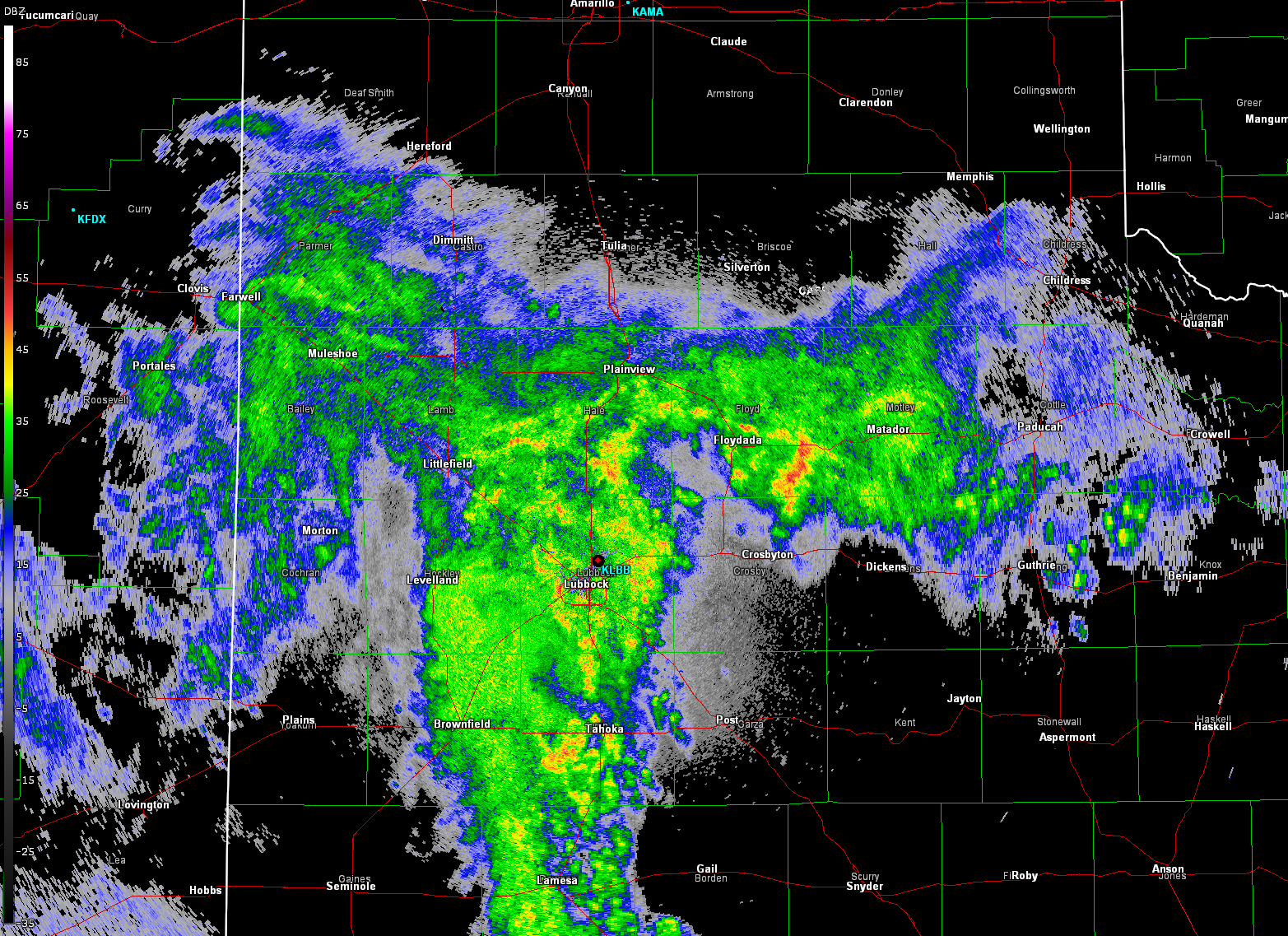 Lubbock radar image captured at 1:04 am on Saturday (14 August). Additional radar images can be found at: 11:04 pm on the 13th, and on the 14th at: 12:01 am; 2:05 am; 3:05 am; 4:01 am; 5:02 am; 6:04 am; and 7:05 am.
The showers and thunderstorms persisted late Friday night into Saturday morning, gradually waning in coverage and intensity toward daybreak on Saturday. The long-duration rain event, at least by West Texas Standard's, yielded widespread moderate to heavy rain totals.
"True Color" satellite imagery captured at 9:21 am on 14 August 2021. A clear plume of clouds and moisture extents southern Arizona and New Mexico across the South Plains region and into parts of Oklahoma and North Texas.
Many locations on the Caprock recorded anywhere from around 0.5 inch to 1.5+ inches. The heaviest rain fell across the central South Plains, including Lubbock, where 1.5 to 3.0 inch were common. Officially the Lubbock Airport measured 1.94 inches of rain during this evening, while southern parts of the city recorded 2.5 to 3.0 inches.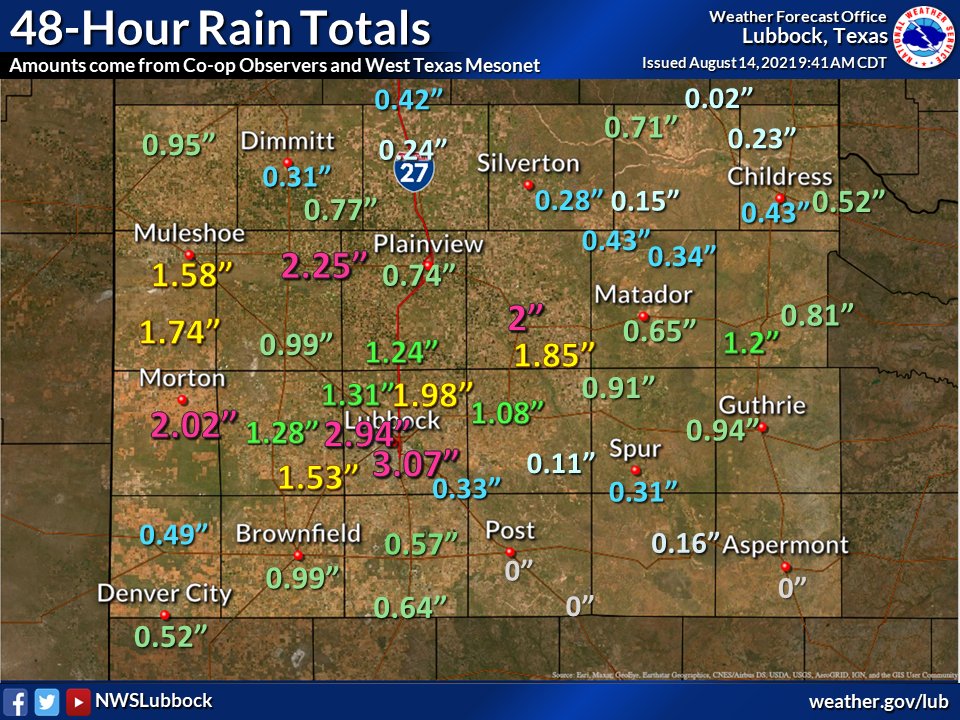 48-hour rain totals, ending at 9 am on Saturday (14 August 2021), courtesy of the West Texas Mesonet and NWS COOP Observers. The radar-estimated and bias-corrected 24-hour rain total ending at 8 am on the 14th can be VIEWED HERE.
In addition to creating street flooding, runoff from all the rainfall swelled the normally tame Brazos that has its source region around Lubbock. The river rose about 6 feet early Saturday morning, pushing the river above minor flood stage. Downstream, this caused water to run over FM 835 immediately upstream of Buffalo Springs Lake, forcing the road to be closed much of the day Saturday.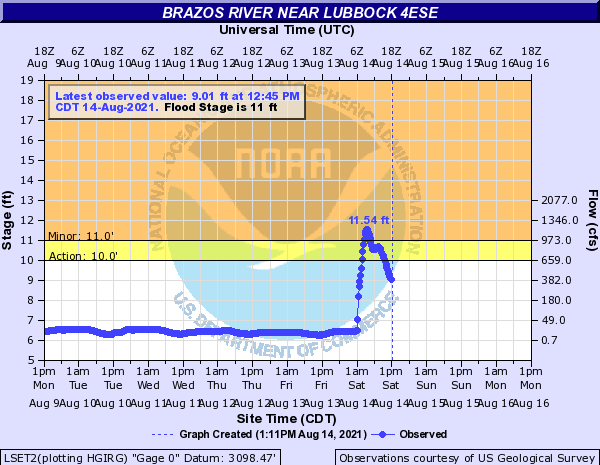 Brazos River near Lubbock 4ESE level from August 9th through the 14th.
The water gradually subsided by Sunday, though another round of heavy rain Monday evening (16 August) briefly lifted the Brazos back over FM 835.