Widespread rain and isolated severe storms
3 May 2021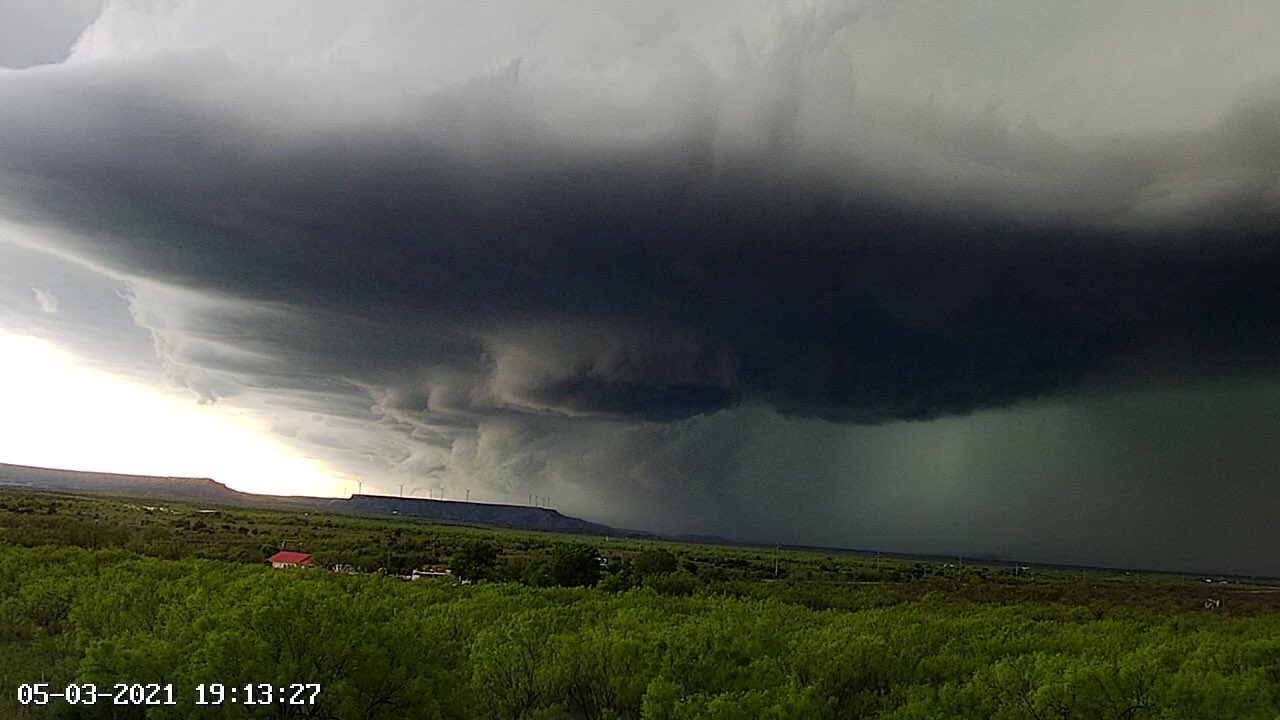 Severe thunderstorm approaching Lake Alan Henry Monday evening (3 May). The picture was captured around 7:13 pm by Lake Alan Henry Weather (@lahwx on Twitter).
Scattered thunderstorms developed along and near a stalling cold front stretching from eastern New Mexico into the southern South Plains and northern Permian Basin Monday afternoon. Modest instability and wind shear in advance of an approaching upper level disturbance were sufficient to cause a few of the thunderstorms to rotate and become strong to severe.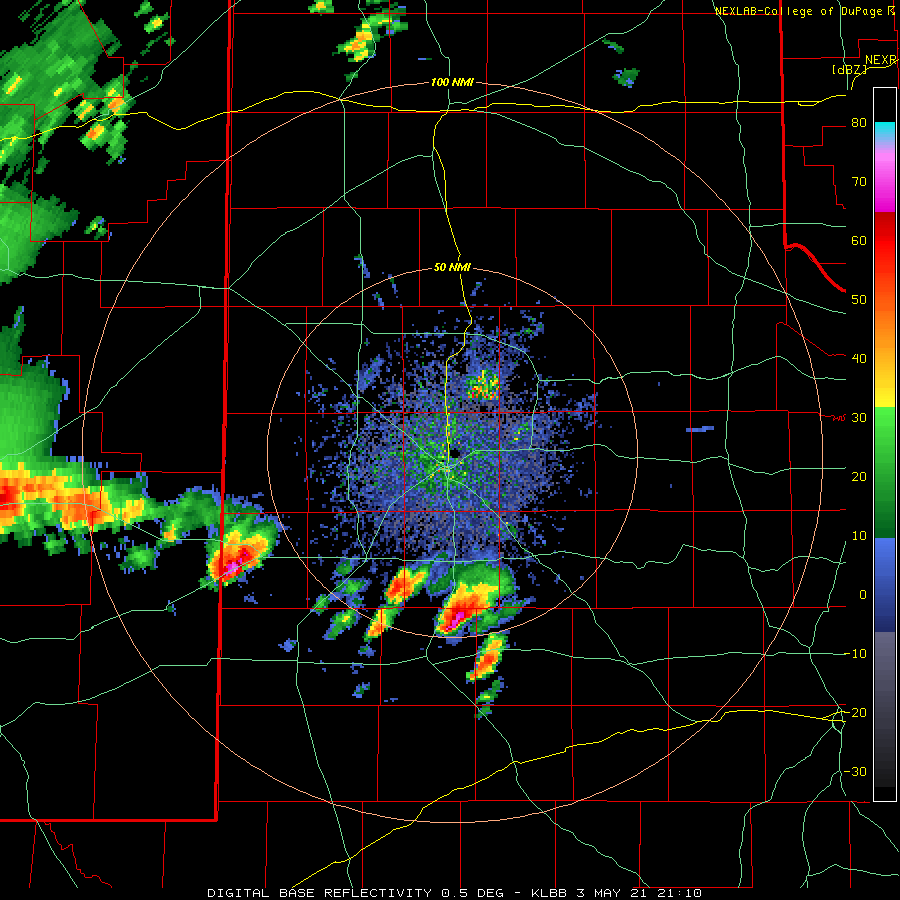 Lubbock WSR-88D base reflectivity loop valid from 4:10 pm to 6:45 pm on Monday (3 May 2021).
The most intense storm of the day developed near the Texas and New Mexico state line during the mid-afternoon, then tracked eastward across the southern South Plains through the late afternoon hours and into the southern Rolling Plains during the evening.
GOES-16 RGB "True Color" animation valid from 3:31 pm to 4:31 pm on 3 May 2021. Scattered thunderstorms are seen erupting along the frontal zone from eastern New Mexico into the northern Permian Basin.
As the storm moved along, it dropped golf ball sized hail in many locations, including Plains, Tokio and Brownfield. In addition, the mean-looking storm generated a wind gust to 63 mph as it moved over O'Donnell, and accumulating small hail in several locations (see the picture below).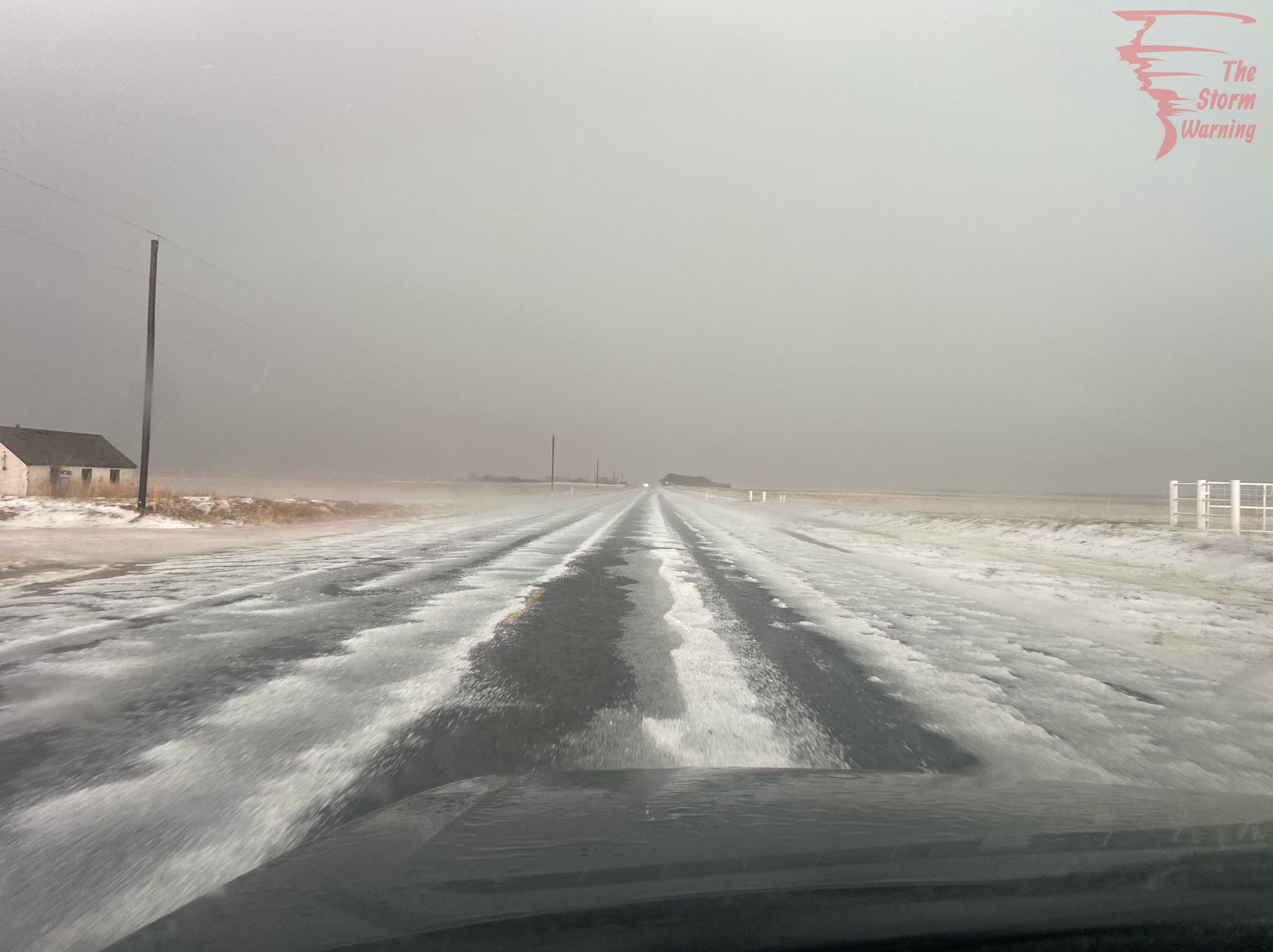 Hail covered roadway just east of Brownfield on Monday afternoon (3 May 2021). The image is courtesy of The Storm warning (@TheStorm Warnin1 on Twitter).
Additionally, the quick moving thunderstorms dropped brief heavy rain. Behind the most intense activity, a larger cluster of showers and non-severe thunderstorms spread out of eastern New Mexico and across the South Plains and southern Texas Panhandle Monday evening and lingering into early Tuesday morning before exiting to the east of the region.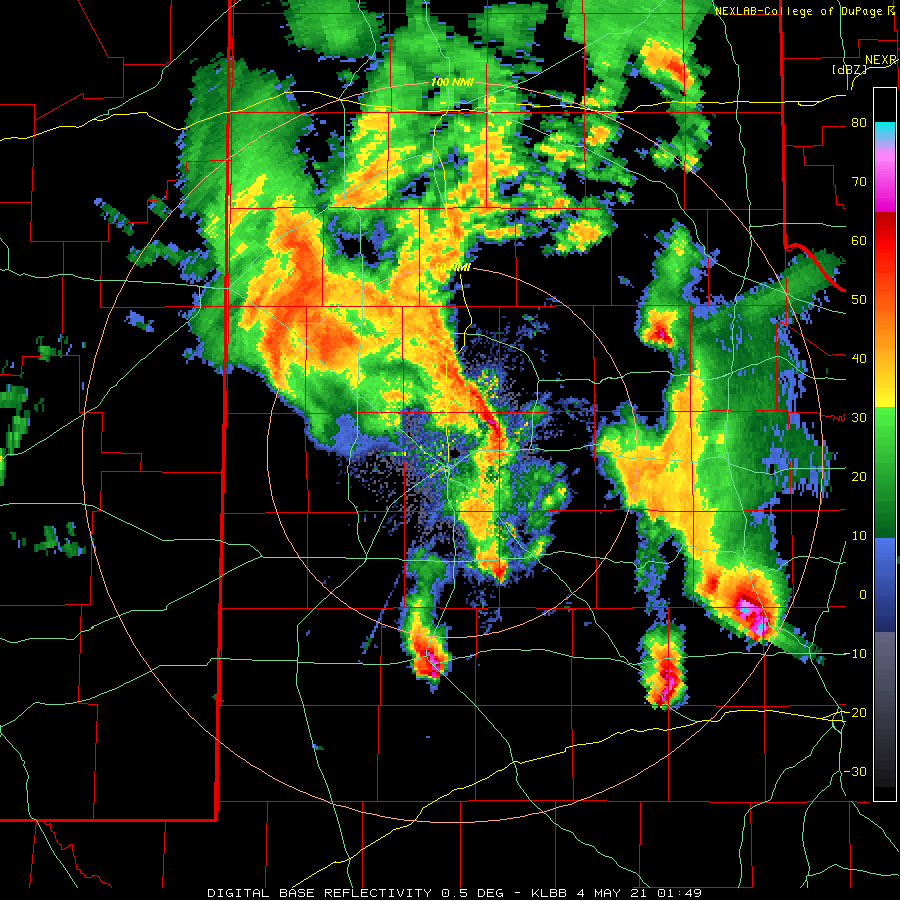 Lubbock WSR-88D base reflectivity loop valid from 8:49 pm to 9:19 pm Monday evening. An additional radar loop, valid from 7:01 pm to 7:29 pm, can be VIEWED HERE.
The large area of late evening/night rainfall was forced by an upper level storm system that emerged from the Four Corners over the southern High Plains.
Mid-level water vapor loop captured from GOES-16 Monday morning (3 May 2021) shows a storm system spinning near the Four Corners.
Many locations saw at least a little rain from this active afternoon and evening, with the southern South Plains, northern South Plains and southern Texas Panhandle faring better than the central South and Rolling Plains. The southern swath of heavier rainfall was directly tied to the severe thunderstorm, and generally resulted in rain totals near and above a half inch.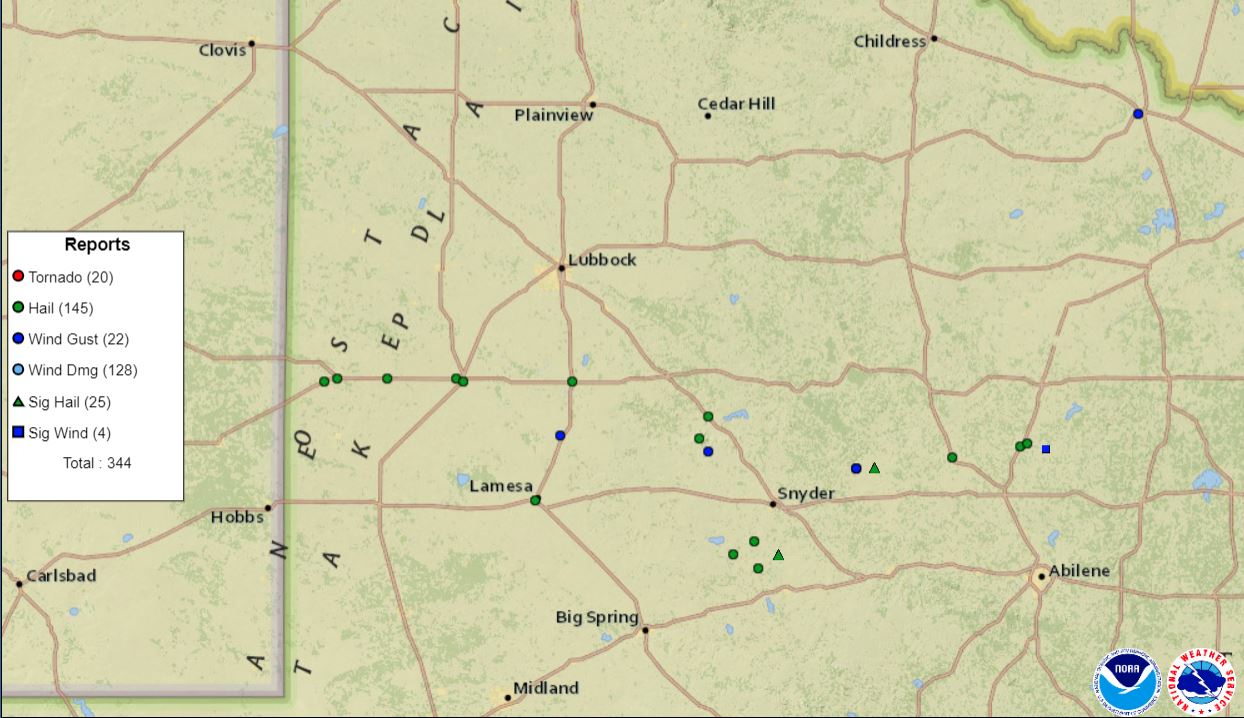 Plot of the preliminary storm reports collected from Monday, 3 May 2021.
The longer duration rainfall across more northern locations left a swatch of a half inch to over an inch of rain from around Muleshoe through Hart and Tulia. In fact, the Hart Coop Observer measured an impressive 1.25 inches of rain. In contrast, rain totals in and around Lubbock and Childress were generally under a tenth of an inch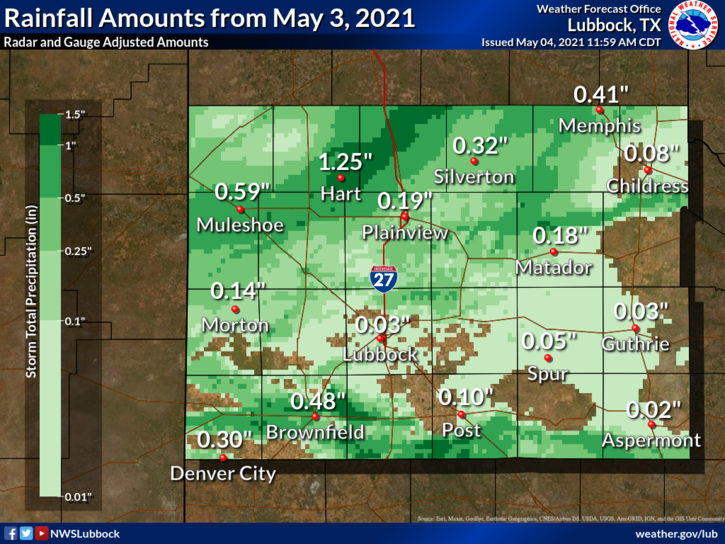 Rainfall amounts from 3 May 2021. The rain totals measured by the West Texas Mesonet over this same period can be FOUND HERE.
The preliminary storm reports collected on May 3rd can be found below.
---
Preliminary Storm Reports from May 3rd

PRELIMINARY LOCAL STORM REPORT...SUMMARY
NATIONAL WEATHER SERVICE LUBBOCK TX
133 AM CDT TUE MAY 04 2021

..TIME...   ...EVENT...      ...CITY LOCATION...     ...LAT.LON...
..DATE...   ....MAG....      ..COUNTY LOCATION..ST.. ...SOURCE....
            ..REMARKS..

0424 PM     HAIL             4 WSW PLAINS            33.17N 102.89W
05/03/2021  M1.50 INCH       YOAKUM             TX   PUBLIC

            REPORT FROM YOAKUM COUNTY COOP GIN.

0434 PM     HAIL             1 S PLAINS              33.18N 102.83W
05/03/2021  E1.75 INCH       YOAKUM             TX   PUBLIC

0502 PM     HAIL             2 W TOKIO               33.18N 102.61W
05/03/2021  M1.75 INCH       YOAKUM             TX   PUBLIC

            REPORT FROM TOKIO CO-OP GIN.

0527 PM     HAIL             2 W BROWNFIELD          33.18N 102.31W
05/03/2021  M1.00 INCH       TERRY              TX   EMERGENCY MNGR

0536 PM     HAIL             1 SW BROWNFIELD         33.17N 102.28W
05/03/2021  M1.75 INCH       TERRY              TX   PUBLIC

0622 PM     TSTM WND GST     1 W O`DONNELL           32.97N 101.85W
05/03/2021  M63 MPH          LYNN               TX   MESONET

0636 PM     HAIL             TAHOKA                  33.17N 101.80W
05/03/2021  M1.00 INCH       LYNN               TX   CO-OP OBSERVER

0723 PM     HAIL             1 SE JUSTICEBURG        33.04N 101.20W
05/03/2021  M1.00 INCH       GARZA              TX   PUBLIC

0826 PM     HAIL             4 WSW DORRAS            32.97N 100.53W
05/03/2021  M0.75 INCH       KENT               TX   NWS EMPLOYEE