Severe storms and heavy rain visit parts of the South and Rolling Plains
27-30 April 2021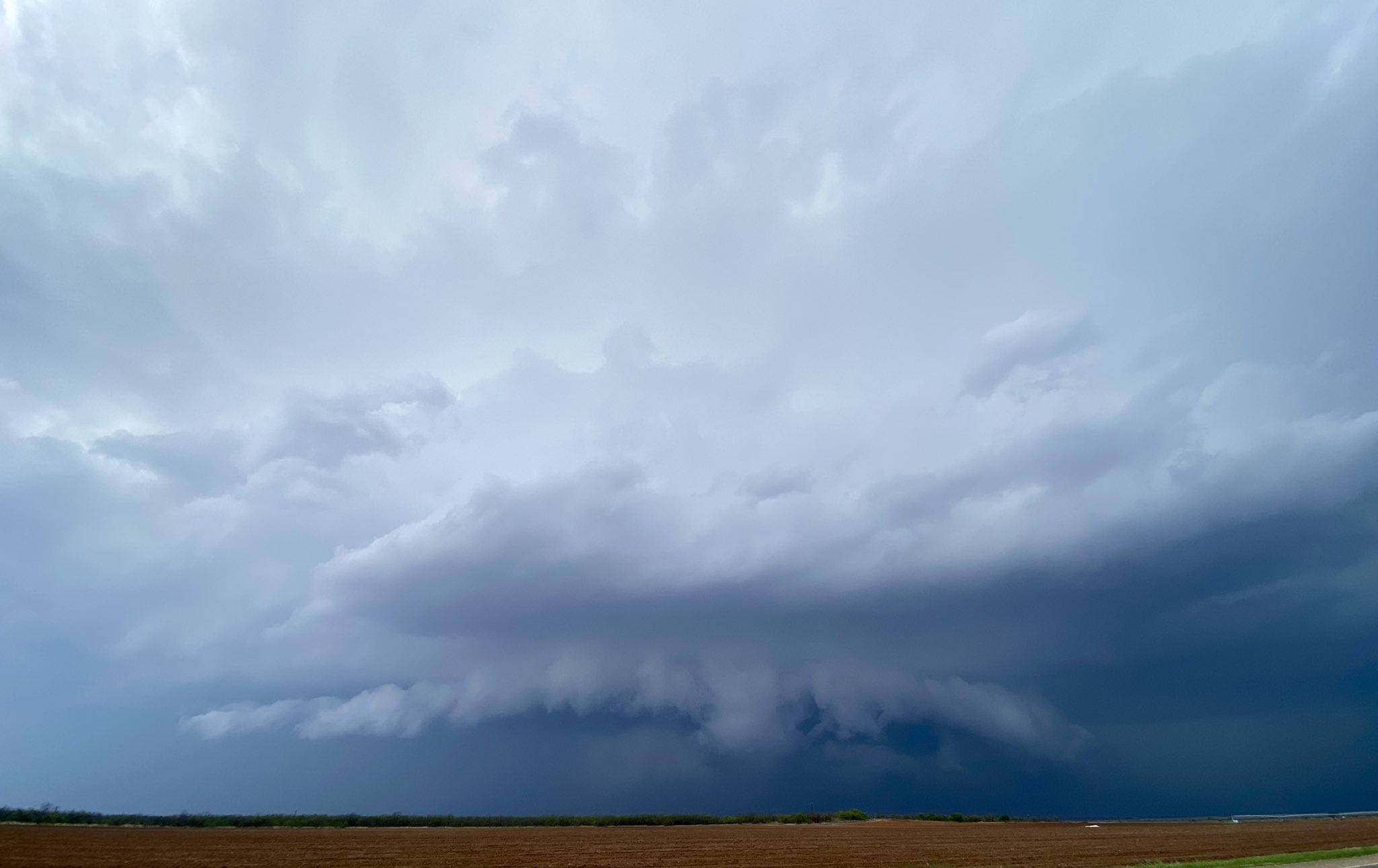 Severe thunderstorm moving into Dicken County on Tuesday afternoon (27 April). The picture was captured around 2 pm by Joe Ponce.
A slow moving upper level storm system provided several rounds of showers and thunderstorms, including isolated severe thunderstorms, during the final days of April. The activity kicked off on Tuesday, April 27th, as temperatures warmed into the 80s at most locations. A diffuse dryline mixed eastward across the South Plains and provided a focus for scattered thunderstorms to develop through the afternoon hours.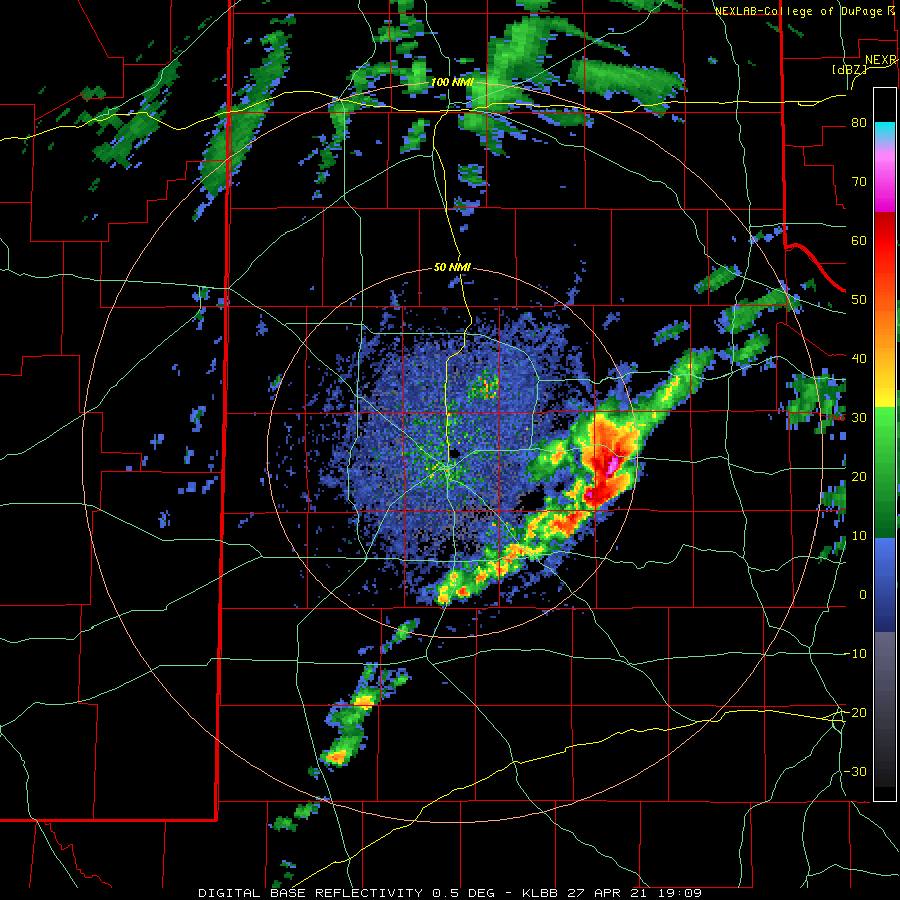 Lubbock WSR-88D base reflectivity loop valid from 2:09 pm to 3:38 pm on Tuesday (27 April 2021).
As the thunderstorms moved eastward, they encountered better moisture and instability, which allowed them to intensify. One particularly strong storm trekked from the eastern South Plains through the central Rolling Plains. This rotating thunderstorms produced very large hail as it moved across northern King County. Hail as large as baseballs fell between Paducah and Guthrie, damaging several vehicles.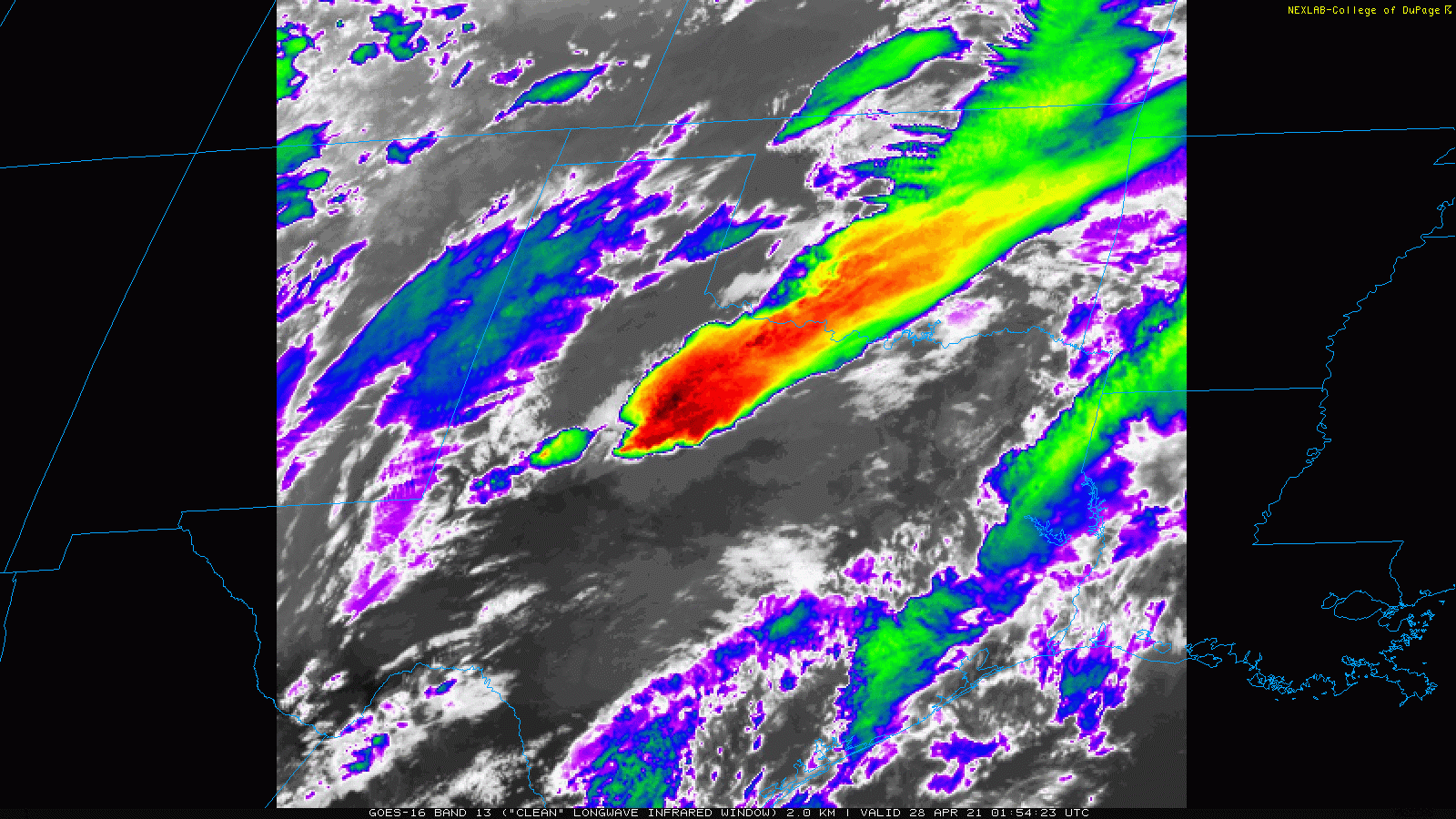 Infrared satellite loop (channel 13) captured from GOES-16 Tuesday evening (27 April 2021) cold cloud tops (tall thunderstorms) moving from the eastern Rolling Plains into western North Texas. The animation is valid from 8:54 pm to 9:11 pm.
The storm produced a funnel cloud as it moved across northern King County and eventually intensified and generated a full-fledged tornado further east, near Truscott. The tornado knocked over a semi truck and tossed a 4000 pound cattle feeder about 850 feet. Utility poles were broken and steel utility poles were bent. The damage resulted in an EF-3 rating for the tornado that was on the ground about 8 miles and obtained a maximum width of about 300 yards.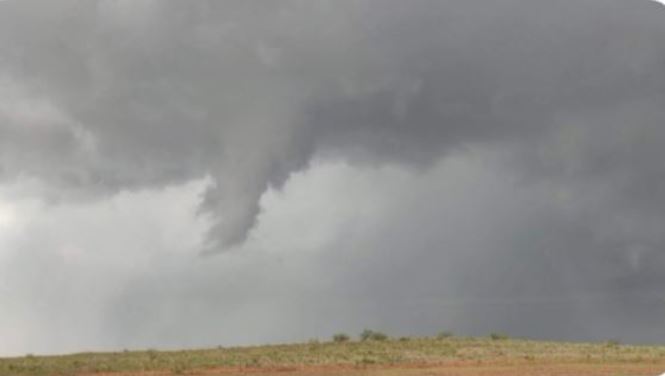 Funnel cloud extending from a severe supercell thunderstorm over northwest King County at 3:10 pm on Tuesday (27 April 2021). The image is courtesy of Kyle Allen and KAMC.
Additional rounds of showers and thunderstorms continued through the overnight hours, bringing widespread rain to the southern Rolling Plains and western North Texas.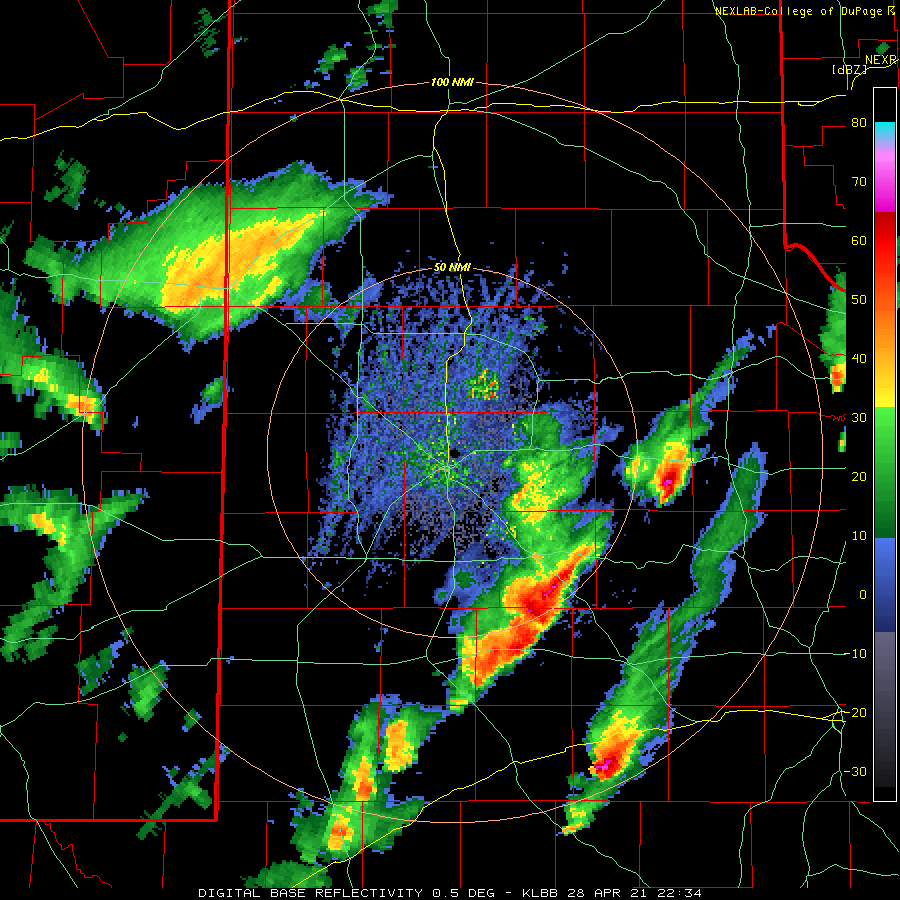 Lubbock WSR-88D base reflectivity loop valid from 5:34 pm to 7:06 pm on Wednesday (28 April 2021).
The next day, Wednesday the 28th, brought another round of strong to severe thunderstorms, again favoring the Rolling Plains and points south and east of there. One intense storm dropped hail as large as baseballs around Aspermont Wednesday evening.
Mid-level water vapor loop captured from GOES-16 Friday morning (30 April 2021) shows a potent storm system spinning over the Big Bend and northern New Mexico.
The upper level low which helped spur the rounds of showers and thunderstorms Tuesday and Wednesday stalled just to the southwest of the region late in the week. This position aided in the development of additional rounds of showers and thunderstorms, this time favoring the southern and southwestern South Plains into the Permian Basin Thursday into Friday.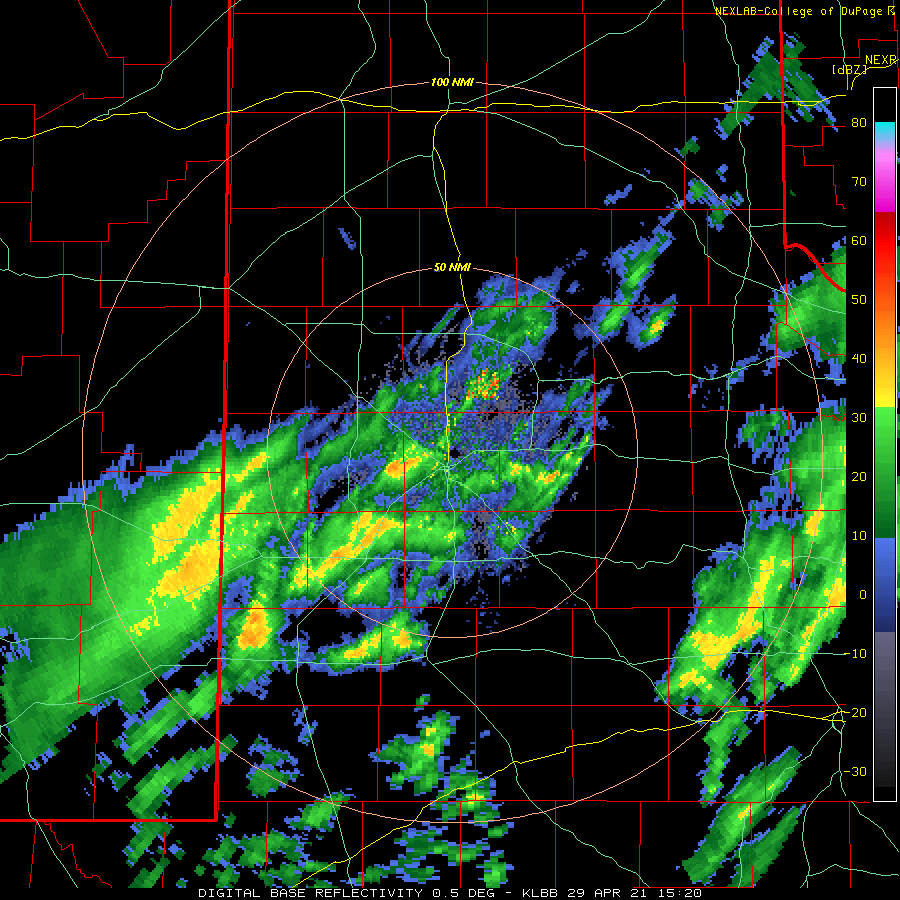 Lubbock WSR-88D base reflectivity loop valid from 10:20 am to 2:42 pm on Thursday (29 April 2021).
The late week rain fell more steadily, with occasional moderate to heavy bursts, but no additional severe weather. Instead, it supplied much-needed rainfall to areas suffering from a prolonged exceptional drought.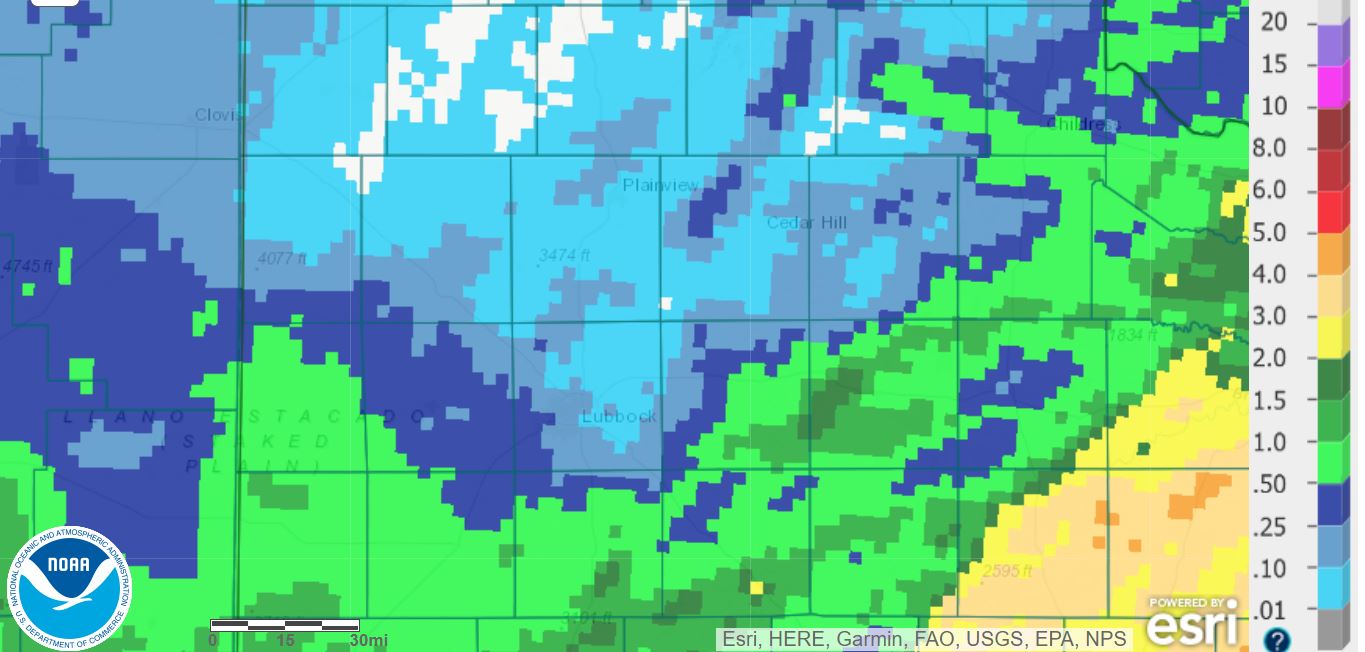 7-day radar-estimated and bias-corrected rainfall ending at 7 am on Friday, 30 April 2021. A regional view of the 7-day rainfall can be VIEWED HERE. The rain totals measured by the West Texas Mesonet over this same period can be FOUND HERE.
Rain totals over this final week of April were impressive across the southern South and Rolling Plains, mostly near and in excess of an inch. The Denver City West Texas Mesonet (WTM) recorded 1.82 inches through Friday afternoon, while the Aspermont WTM tallied just under 3 inches. Even heavier rain,3 to 5+ inches, fell over much of North Texas and the southeastern half of Oklahoma. Unfortunately, rain totals were much lower from the central South Plains northward into the Texas Panhandle. Lubbock officially measured 0.04 inches over the 4 day stretch while Childress recorded 0.19 inches.
The preliminary storm reports collected on April 27th and 28th can be found below.