Scattered thunderstorms produce large hail and a tornado
23 April 2021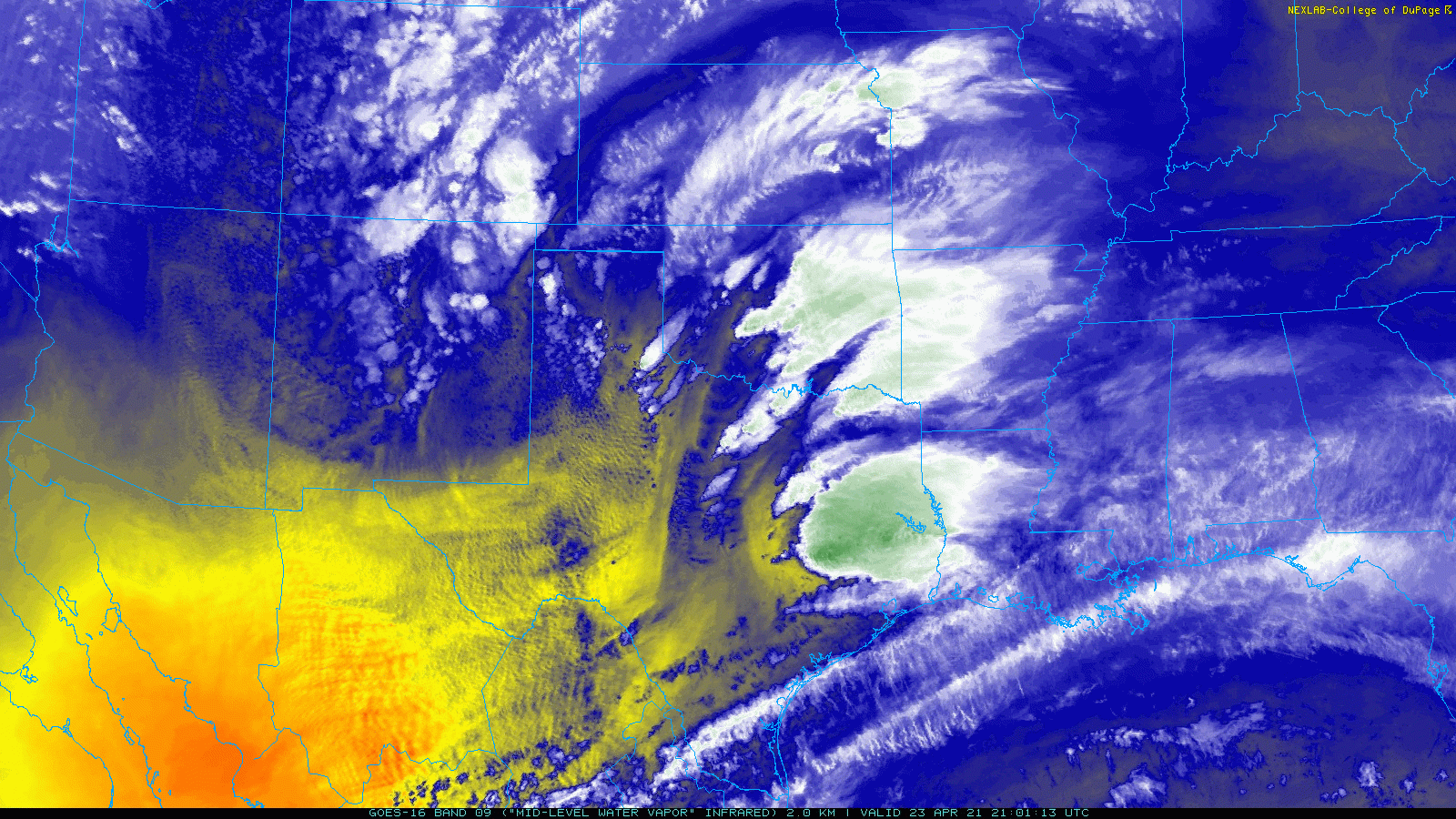 Mid-level water vapor loop captured by GOES-16 from 4:01 pm to 4:36 pm on 23 April 2021.
An approaching upper level storm system, in combination with a sharpening dryline, generated a round of scattered thunderstorms across the southeastern Texas Panhandle and Rolling Plains Friday afternoon and evening (23 April).
Lubbock WSR-88D loop valid from 2:57 pm to 4:49 pm on 23 April 2021.
The first storms formed along the dryline during the mid-afternoon over the Rolling Plains as temperatures warmed into the 70s and 80s. Relatively rich moisture and strong instability east of the dryline fed the thunderstorms, while strong vertical wind shear caused the storms to organize and rotate. One thunderstorm quickly intensified as it tracked eastward across northern Cottle County, dropping hail estimated as large as golf balls as it moved near Cee Vee and Swearingen.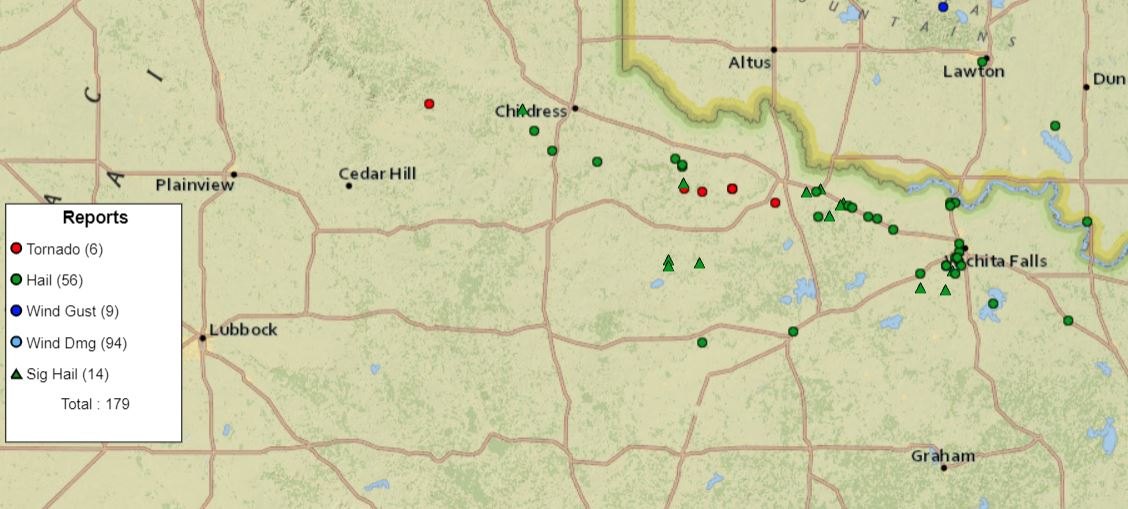 Preliminary storm reports received for 23 April 2021.
Additional showers and thunderstorms followed the initial round. This activity produced strong wind gusts as it emerged across the western and central Texas Panhandle, but quickly intensified as it encountered the better moisture and instability residing off the Caprock. One particularly intense storm produced a tornado as it passed northeast of Turkey. This storm went on to produce 2" diameter hail south of Estelline and quarter size hail near Tell as it propagated east-southeastward.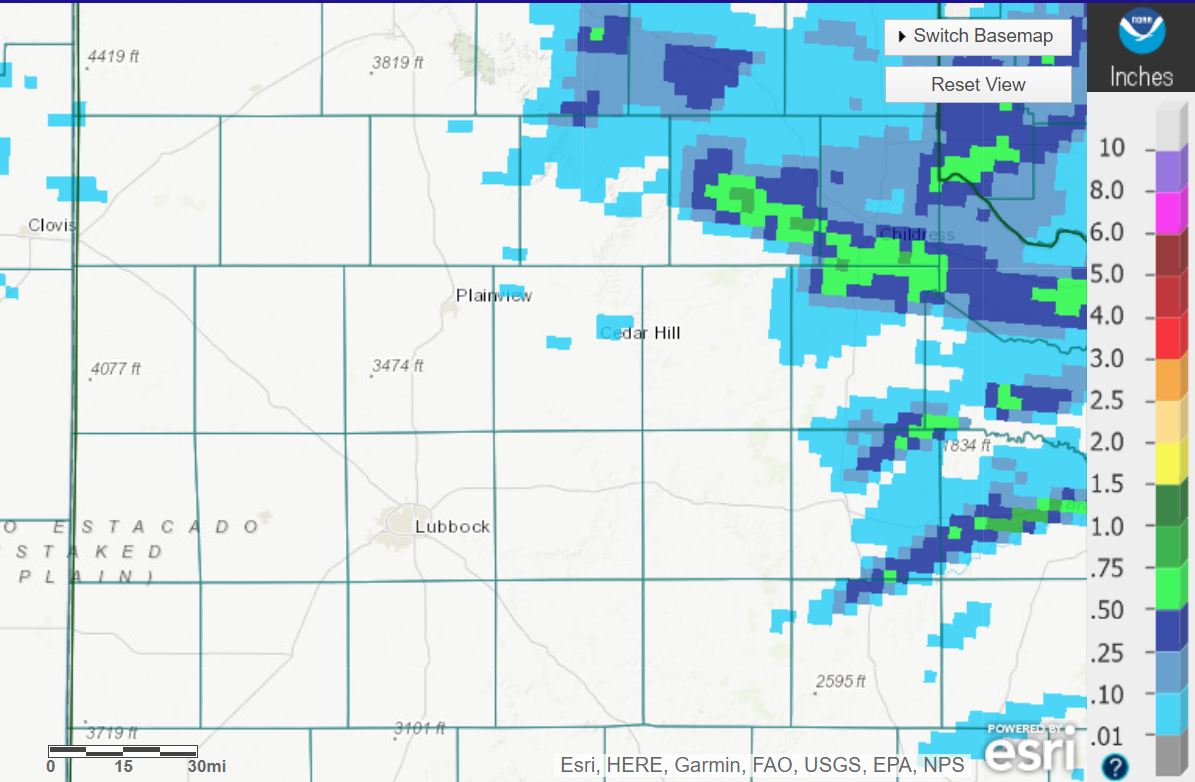 Radar-estimated and bias-corrected rainfall for 23 April 2021.
Welcome rain accompanied the thunderstorms, though only a few narrow swaths of appreciable rainfall occurred. The heaviest rainfall, estimated between a half inch and inch, stretched from central Hall County into southern Childress and northern Cottle Counties. The Childress Airport officially recorded 0.17 inches of rain on the 23rd.
The preliminary wind reports collected during this event can be found below.

---
Preliminary Storm Reports from April 23rd

PRELIMINARY LOCAL STORM REPORT...SUMMARY
NATIONAL WEATHER SERVICE LUBBOCK TX
922 PM CDT FRI APR 23 2021

..TIME...   ...EVENT...      ...CITY LOCATION...     ...LAT.LON...
..DATE...   ....MAG....      ..COUNTY LOCATION..ST.. ...SOURCE....
            ..REMARKS..

0427 PM     HAIL             8 ENE CEE VEE           34.27N 100.31W
04/23/2021  E1.75 INCH       COTTLE             TX   STORM CHASER

0453 PM     HAIL             6 NNE SWEARINGEN        34.23N 100.11W
04/23/2021  E1.50 INCH       COTTLE             TX   STORM CHASER

0525 PM     NON-TSTM WND GST TULIA                   34.54N 101.77W
04/23/2021  M58 MPH          SWISHER            TX   MESONET

            VIRGA INDUCED DOWNBURST

0531 PM     TORNADO          4 NE TURKEY             34.44N 100.85W
04/23/2021                   HALL               TX   FIRE DEPT/RESCUE

0613 PM     HAIL             9 S ESTELLINE           34.42N 100.44W
04/23/2021  E2.00 INCH       HALL               TX   EMERGENCY MNGR

0643 PM     HAIL             3 S TELL                34.34N 100.39W
04/23/2021  E1.00 INCH       CHILDRESS          TX   CO-OP OBSERVER