System brings thunderstorms, wind and blowing dust
22 March 2021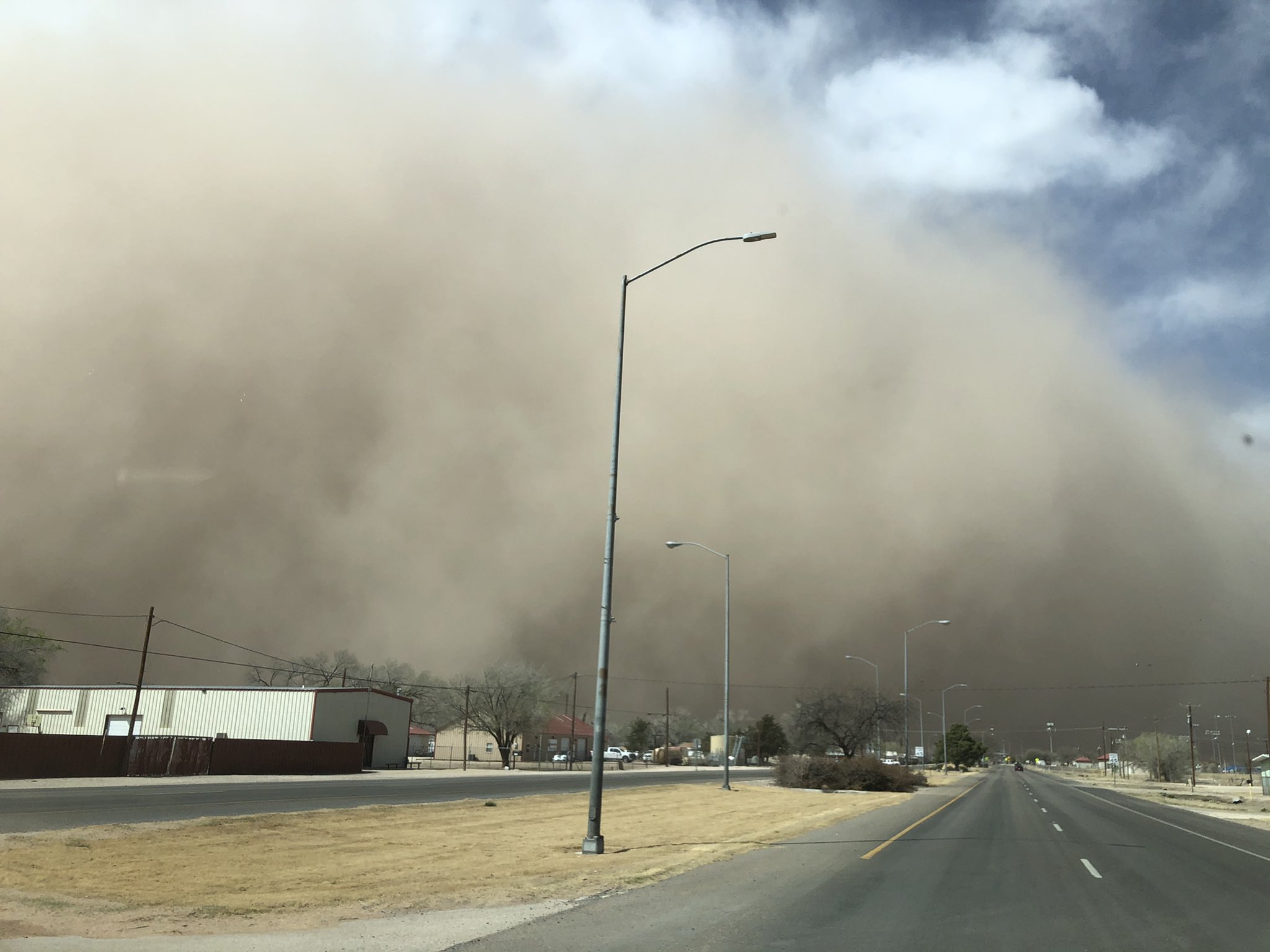 A wall of dust (haboob) rolling through Hobbs, NM, Monday afternoon (22 March). The picture is courtesy of @BLD_BTH on Twitter.
The active weather in March continued on the 22nd as yet another strong upper level storm system approached and passed over the region. The system sparked widespread showers and thunderstorms, some which became severe. In addition, intense winds that developed in southeast New Mexico swept eastward across the southern South Plains, Rolling Plains and adjacent Permian Basin and Big Country through the mid-late afternoon hours. A wall of dust, known as a haboob, formed along the leading edge of the intense winds, creating near zero visibility as it raced eastward.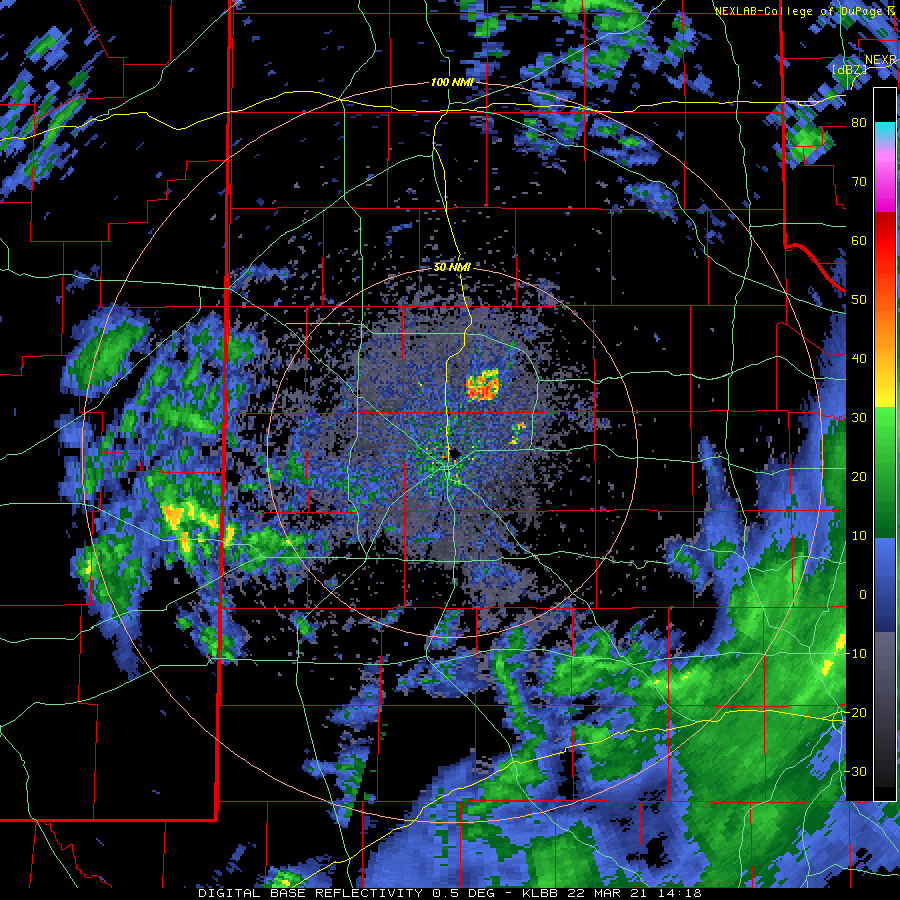 Lubbock WSR-88D radar animation valid from 9:18 am to 1:42 pm on 22 March 2021.
In advance of the system, showers and thunderstorms developed Monday morning as increasing lift encountered improved low-level moisture. The activity intensified and organized into a line as it moved eastward during the afternoon hours. Many locations, including parts of Lubbock, received hail. In fact, some spots saw two or more rounds of hail through the course of the day. Most of the hail was small, though quarter-sized hail was reported near Crosbyton. The outflow winds from the storms also damaged a tractor and seed bin near Graham and caused roof damage in Dickens.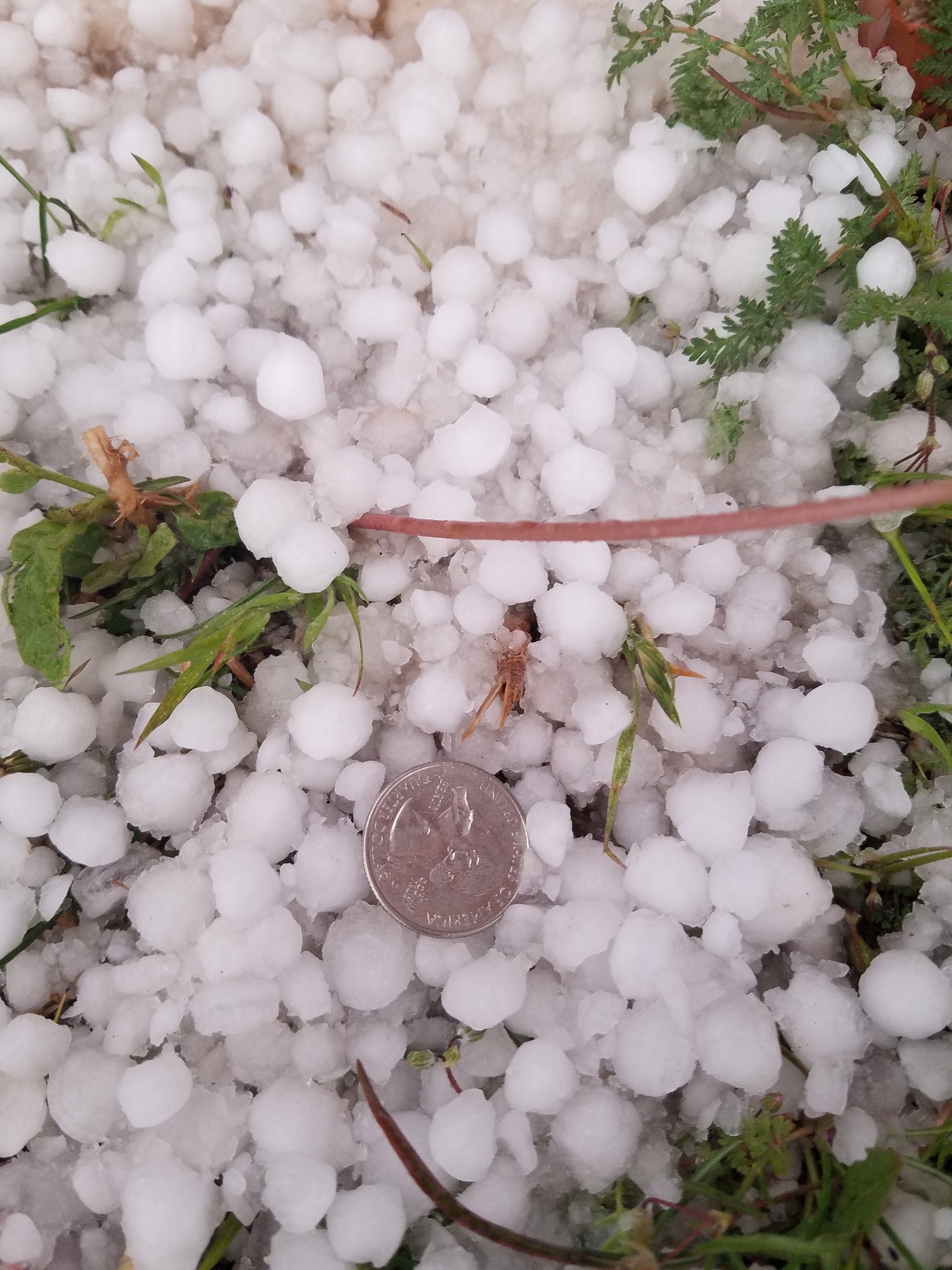 Small hail piled up in northwest Lubbock late Monday afternoon (22 March). The picture is courtesy of Jessie McDonald (@jmeso212).
The first cluster of thunderstorms weakened modestly as it shifted eastward across the eastern Rolling Plains and southeast Texas Panhandle. However, additional showers and thunderstorms developed over eastern New Mexico as the center of the storm system moved atop relatively dry air.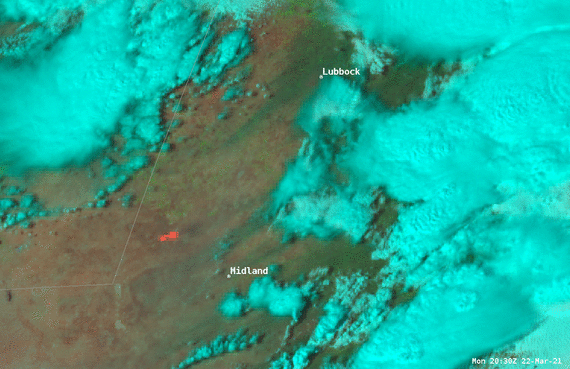 GOES-16 1-minute Natural Color Fire RGB imagery on Monday afternoon (22 March 2021). A True Color RGB captured Monday afternoon can be VIEWED HERE.
Precipitation falling into the dry air near ground level helped generated an intense outflow that raced from southeast New Mexico across the southern South and Rolling Plains and adjacent areas. Wind gusts in excess of 70 mph lofted copious amounts of blowing dust and generated a haboob that swept over the region (seen clearly in the above satellite imagery). The wall of dust dropped the visibility to near zero as it moved through, creating dangerous travel conditions. The above imagery also clearly indicates a large wildfire (orange/red area) in Andrews County.
Lubbock WSR-88D radar animation valid from 2:23 pm to 4:58 pm on 22 March 2021.
The leading edge of the outflow, severe winds and wall of dust show up as a "fine line" advancing across the southwestern South Plains in the radar animation above. On the northern fringe of the outflow, a small cluster of showers and thunderstorms persisted into the evening hours as it tracked eastward.
A wall of dust (haboob) rolling by Lake Alan Henry late Monday afternoon (22 March). The picture is courtesy of Lake Alan Henry Weather (@lahwx).
The most intense activity brought another round of small hail to parts of Lubbock, as well as points eastward, and enhanced the wind at times. When the storm moved through the Rolling Plains it even generated a brief tornado south of Paducah. Thankfully, the short-lived tornado remained over open land and did no known damage.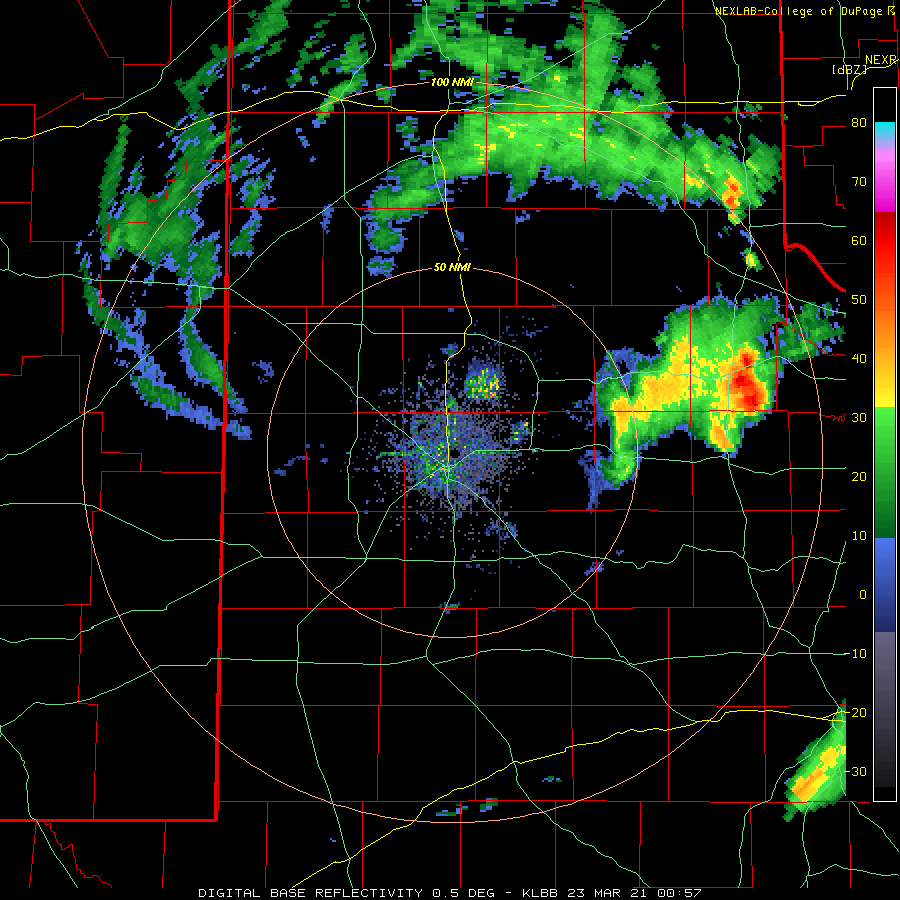 Lubbock WSR-88D radar animation valid from 7:58 pm to 8:17 pm on 22 March 2021.
A few light showers continued into the evening hours as conditions gradually improved.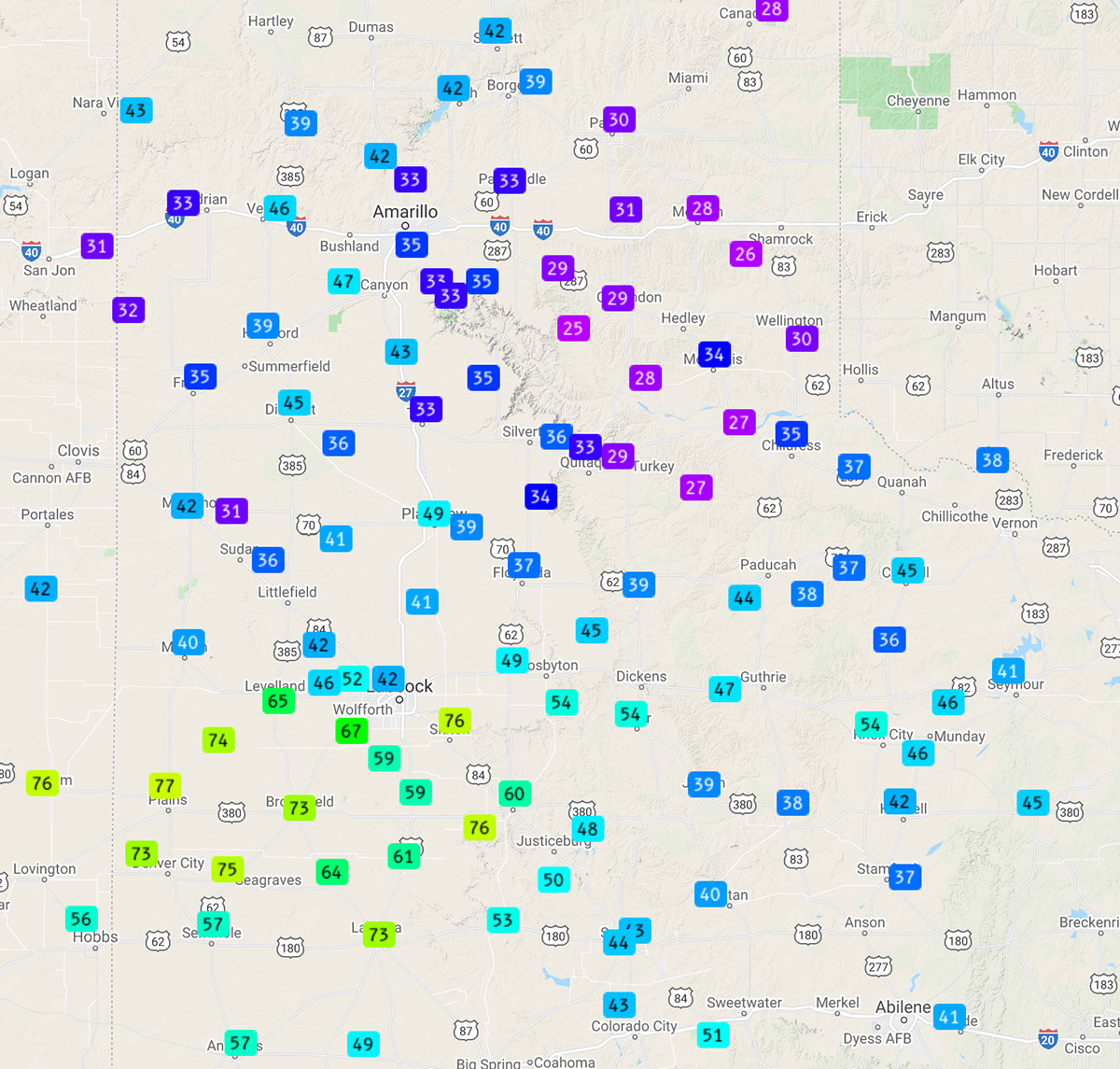 Peak wind gusts measured by the West Texas Mesonet on Monday (22 March 2021).
Peak wind gusts of 70 to 76 mph were common over portions of the southwest and south-central South Plains during this event. In addition to creating the haboob, the winds caused property damage, including downing powerlines and removing roofs over parts of Yoakum County.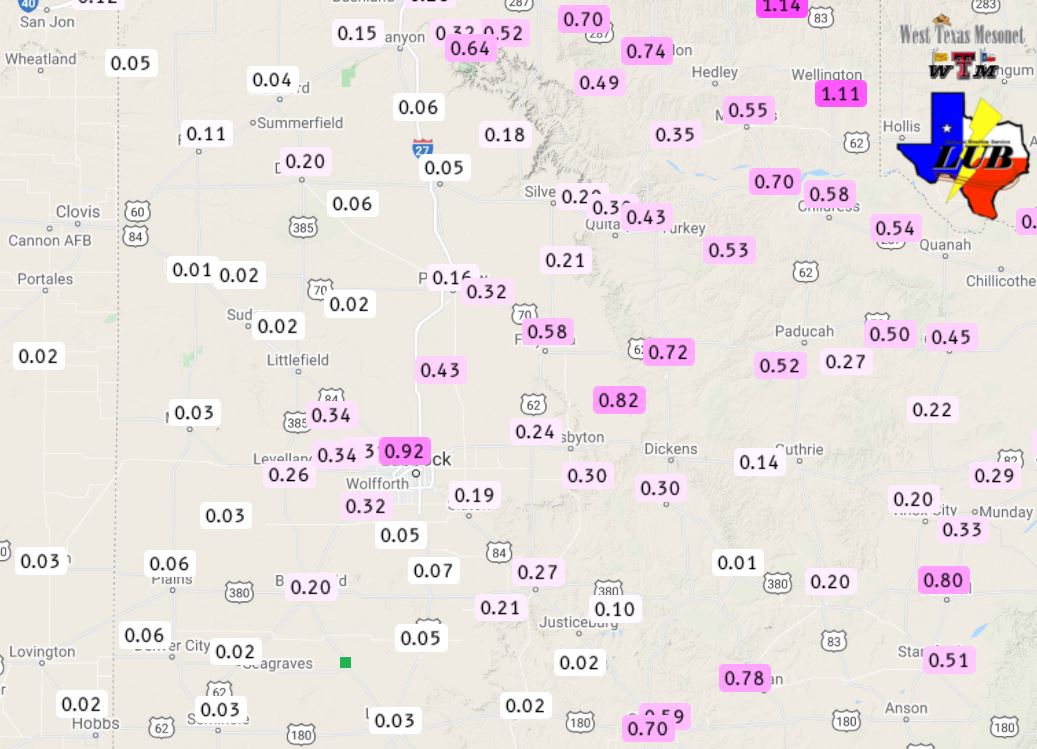 Total rainfall measured by the West Texas Mesonet on Monday (22 March 2021).
On a positive note, the showers and thunderstorms provided measurable rainfall for most of the South Plains region. In general, the rainfall was rather light, but a swath of a third of an inch to over an inch fell from the central South Plains through the northern Rolling Plains and eastern Texas Panhandle. Lubbock officially measured 1.11 inches while Childress recorded 0.90 inches.
The preliminary storm reports collected during this event can be found below.