Westerly winds rake the southern High Plains
30 January 2021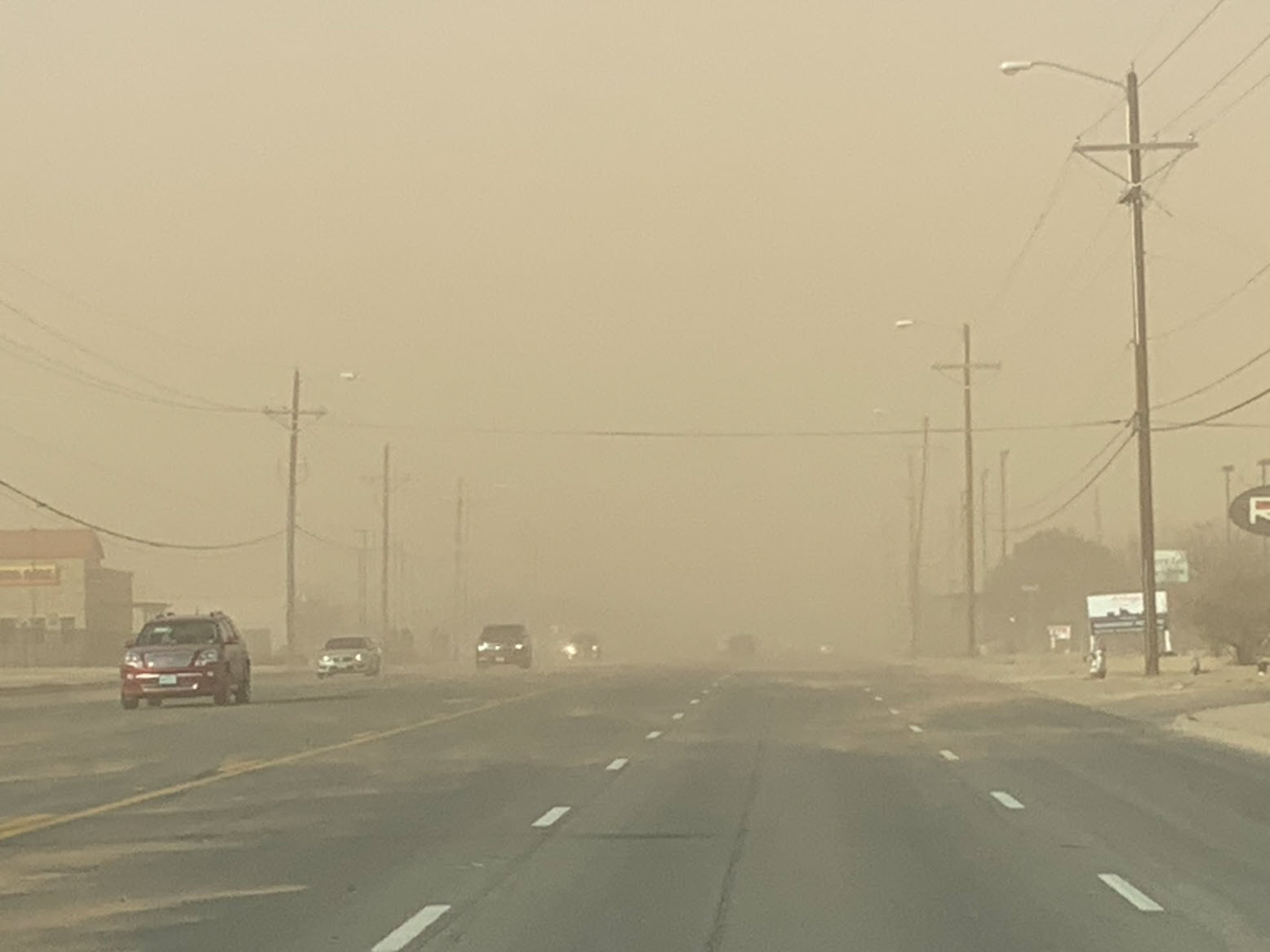 Thick blowing dust streaming over Lubbock Saturday morning (30 January). The picture was captured near Milwaukee Avenue and 82nd Street around 10 am by Jody James.
A powerful upper level storm system emerging from the Four Corners early on Saturday, January 30th, brought a variety of impacts to West Texas. Initially, as the system approached, strong lift and enough moisture were present to support scattered showers and isolated thunderstorms late Friday night into early Saturday morning. This activity raced to the northeast, dropping only meager amounts of moisture in spots. A few of these showers even produced locally strong to severe wind gusts, include at the Borger West Texas Mesonet site where a heat burst generated an 85 mph wind gust and raised the temperature 14 degrees.
Mid-level water vapor loop captured from GOES-16 early Saturday morning (30 January 2021) shows a potent storm system moving into the western Panhandles. The animation is valid from 5:26 am to 6:11 am CST. Also overlaid is the satellite detected lightning (GLM) data.
As the showers and thunderstorms shifted to the east early Saturday, a Pacific cold front raced from west-to-east across the South Plains and into the Rolling Plains. Westerly winds near 30 mph, with gusts to 45+ mph, were common immediately behind this front. Unfortunately, this was just a prelude to the main event that unfolded after sunrise.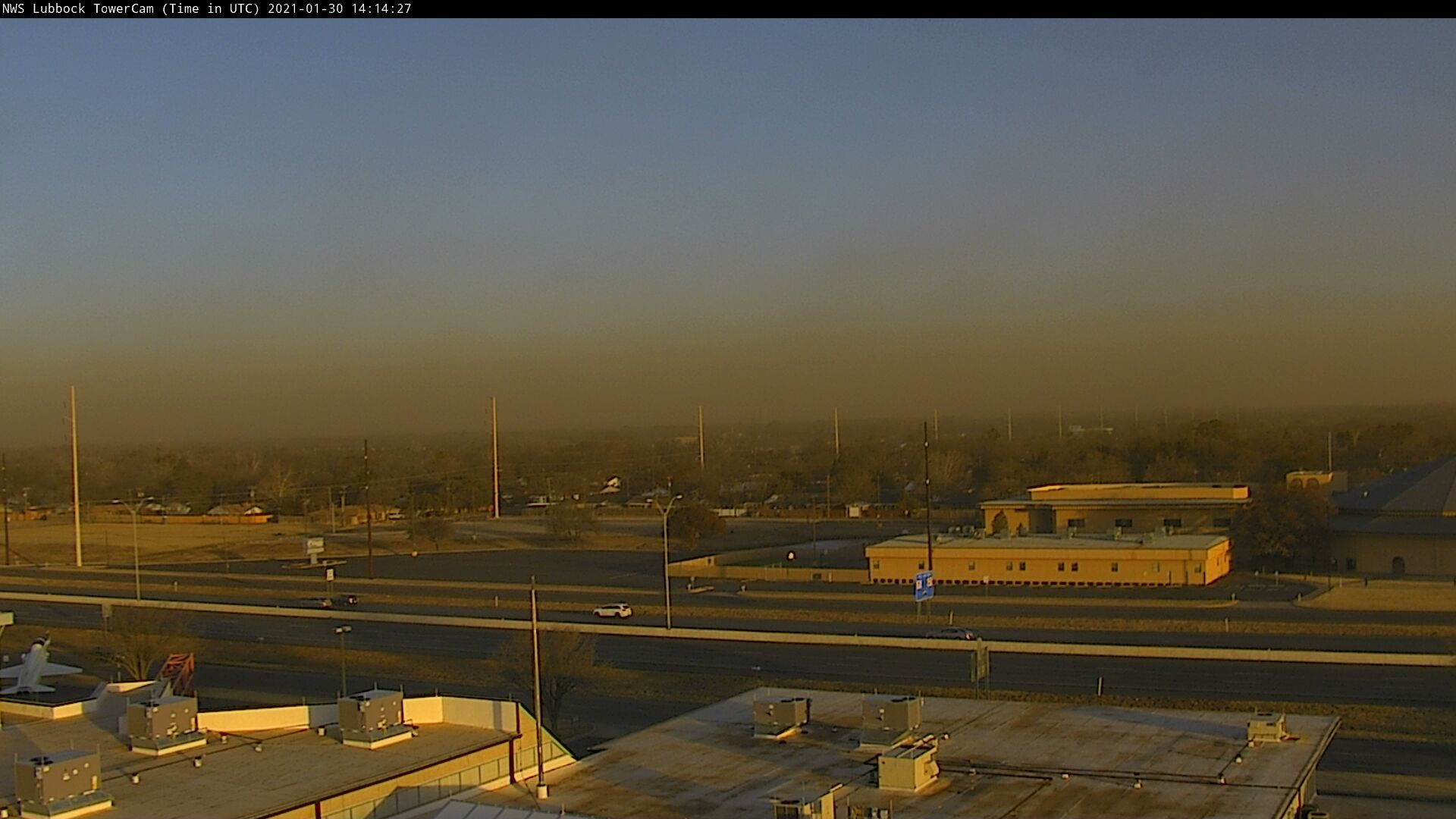 A dusty start to Saturday, as observed from the south side of Lubbock at 8:14 am (30 January 2021).
The winds further intensified as the sun came up and the stronger winds aloft quickly mixed downward. These intense winds quickly lofted copious amounts of dust and carried it eastward across the South Plains Saturday morning.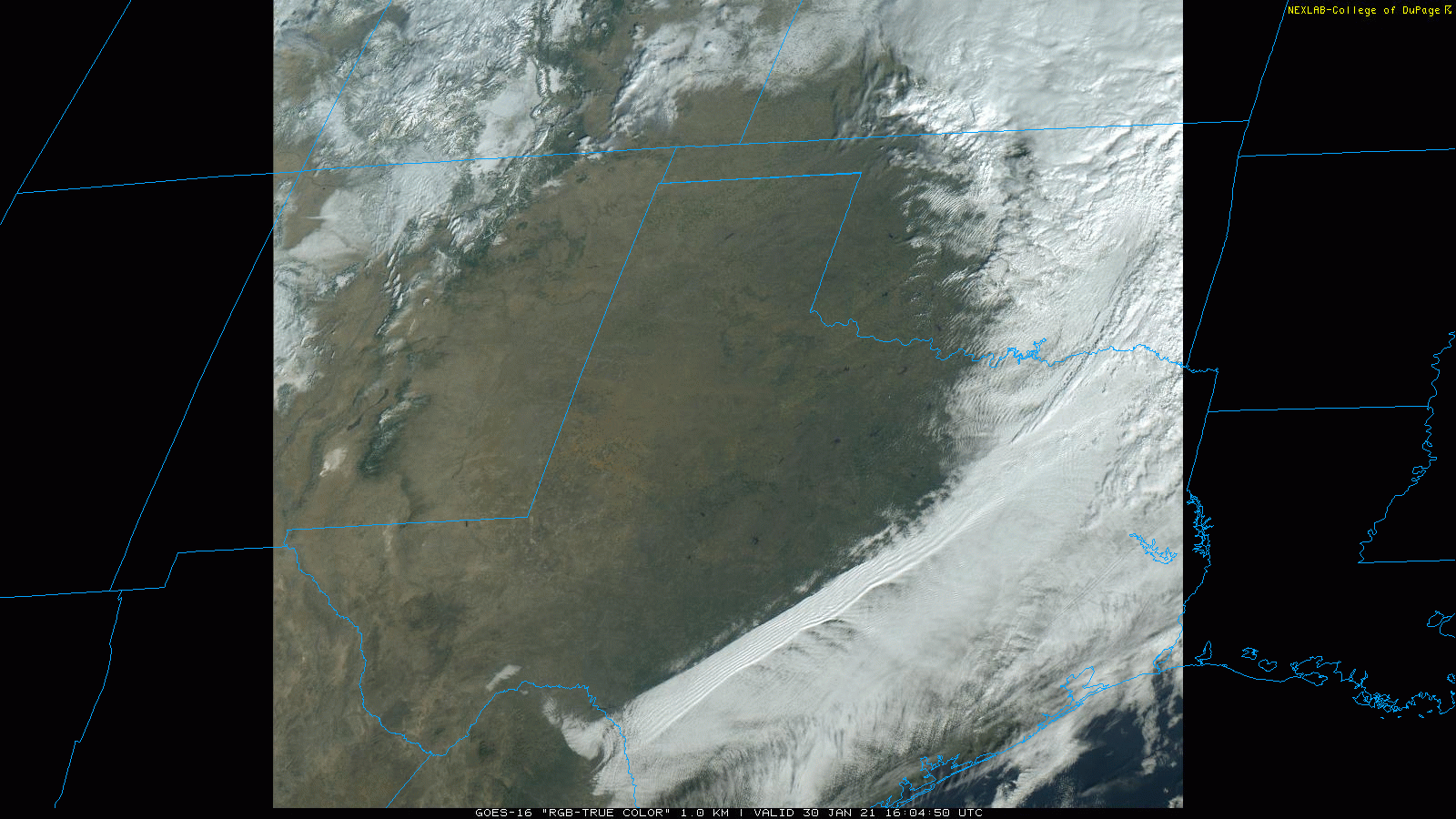 GOES-16 "RGB True-Color" satellite imagery valid from 10:04 am to 2:40 pm on Saturday (30 January 2021).
The above satellite animation clearly shows several plumes of dust starting near the Texas and New Mexico state line, then streaming east-southeastward. The West Texas dust eventually reached North Texas late in the day, browning the sky and dropping the visibility to a few miles in DFW.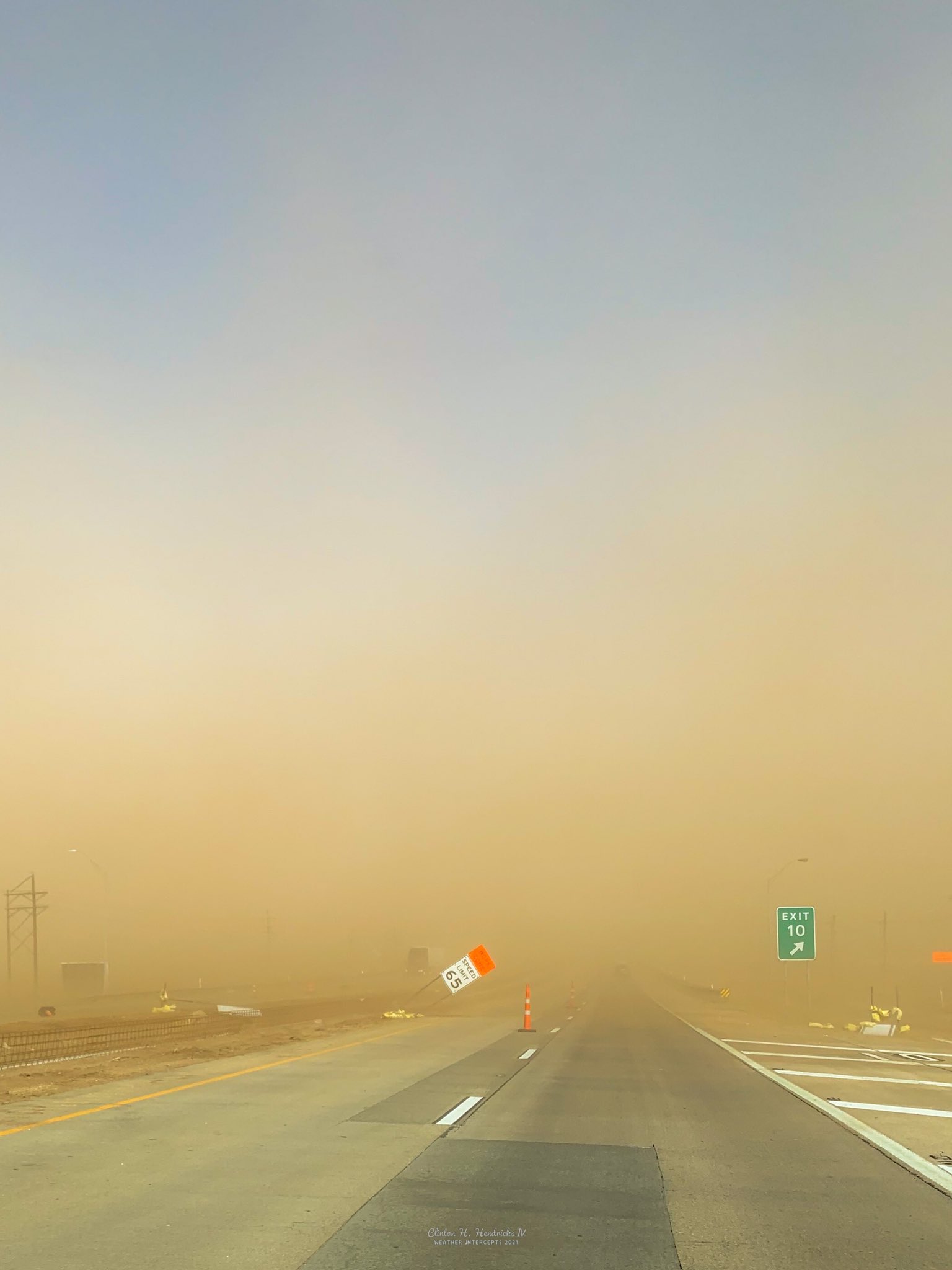 Dusty, windy scene along I-27 near New Deal on Saturday (30 January 2021). The image is courtesy of Weather Intercepts.
Closer to home, the dust became very thick in spots, especially downwind of open fields and construction zones, as can be seen above. Some places saw the visibility fall well below a mile, to a quarter mile or less in spots. This resulted in hazardous travel, in addition to the poor air quality. Thankfully, the wind gradually eased through the afternoon before diminishing by early evening. Skies quickly cleared as the winds decreased, resulting in a fairly pleasant conclusion to the day.
Peak wind gusts measured by the West Texas Mesonet on Saturday (30 January 2021). The highest sustained wind speeds on Saturday can be VIEWED HERE.
As shown above, wind gusts on this dusty day generally topped out between 55 and 65 mph over the South Plains region. A peak wind gust of 68 mph was measured at the Reese Center West Texas Mesonet site. Officially, Lubbock recorded a peak wind gust of 61 mph at 10:43 am. In addition to lofting the blowing dust and making travel difficult, the intense winds did cause some power outages and minor property damage. For instance, in Lubbock the winds downed a tree, which fell on a car.
The preliminary wind reports collected during this event can be found below.
---
Wind Reports from January 30th

PRELIMINARY LOCAL STORM REPORT...SUMMARY
NATIONAL WEATHER SERVICE LUBBOCK TX
154 PM CST SAT JAN 30 2021

..TIME...   ...EVENT...      ...CITY LOCATION...     ...LAT.LON...
..DATE...   ....MAG....      ..COUNTY LOCATION..ST.. ...SOURCE....
            ..REMARKS..

0839 AM     NON-TSTM WND GST 9 WSW EARTH             34.19N 102.56W
01/30/2021  M61 MPH          LAMB               TX   MESONET

0913 AM     NON-TSTM WND GST 3 NNW MCADOO            33.77N 101.03W
01/30/2021  M62 MPH          DICKENS            TX   MESONET

0920 AM     NON-TSTM WND GST 1 NE AMHERST            34.02N 102.40W
01/30/2021  M61 MPH          LAMB               TX   MESONET

0922 AM     HIGH SUST WINDS  6 NW WHITE RIVER LAKE   33.53N 101.17W
01/30/2021  M42 MPH          CROSBY             TX   MESONET

0922 AM     NON-TSTM WND GST 6 NW WHITE RIVER LAKE   33.53N 101.17W
01/30/2021  M64 MPH          CROSBY             TX   MESONET

0930 AM     NON-TSTM WND GST 5 SSW GRAHAM            33.08N 101.52W
01/30/2021  M61 MPH          GARZA              TX   MESONET

            SUSTAINED WIND SPEED OF 47 MPH.

1000 AM     HIGH SUST WINDS  2 NNE FLOYDADA          34.00N 101.33W
01/30/2021  M44 MPH          FLOYD              TX   MESONET

1000 AM     NON-TSTM WND GST 2 NNE FLOYDADA          34.00N 101.33W
01/30/2021  M60 MPH          FLOYD              TX   MESONET

1001 AM     NON-TSTM WND GST 2 S BROWNFIELD          33.15N 102.27W
01/30/2021  M59 MPH          TERRY              TX   MESONET

1005 AM     NON-TSTM WND GST 2 WSW TURKEY            34.38N 100.93W
01/30/2021  M60 MPH          HALL               TX   MESONET

1005 AM     HIGH SUST WINDS  1 ENE MORTON            33.73N 102.74W
01/30/2021  M42 MPH          COCHRAN            TX   MESONET

1008 AM     NON-TSTM WND GST 3 ENE SOUTH PLAINS      34.24N 101.26W
01/30/2021  M58 MPH          FLOYD              TX   MESONET

1013 AM     HIGH SUST WINDS  5 ENE ABERNATHY         33.88N 101.76W
01/30/2021  M40 MPH          HALE               TX   MESONET

1013 AM     NON-TSTM WND GST 5 ENE ABERNATHY         33.88N 101.76W
01/30/2021  M60 MPH          HALE               TX   MESONET

1015 AM     NON-TSTM WND GST 3 N ROARING SPRINGS     33.94N 100.85W
01/30/2021  M64 MPH          MOTLEY             TX   MESONET

1020 AM     HIGH SUST WINDS  6 SSW ANTON             33.73N 102.19W
01/30/2021  M41 MPH          HOCKLEY            TX   MESONET

1020 AM     NON-TSTM WND GST 6 SSW ANTON             33.73N 102.19W
01/30/2021  M59 MPH          HOCKLEY            TX   MESONET

1024 AM     HIGH SUST WINDS  REESE CENTER            33.61N 102.05W
01/30/2021  M46 MPH          LUBBOCK            TX   MESONET

1024 AM     NON-TSTM WND GST REESE CENTER            33.61N 102.05W
01/30/2021  M59 MPH          LUBBOCK            TX   MESONET

1030 AM     HIGH SUST WINDS  3 WSW AIKEN             34.13N 101.57W
01/30/2021  M50 MPH          HALE               TX   MESONET

1049 AM     HIGH SUST WINDS  REESE CENTER            33.61N 102.05W
01/30/2021  M52 MPH          LUBBOCK            TX   MESONET

1049 AM     NON-TSTM WND GST REESE CENTER            33.61N 102.05W
01/30/2021  M68 MPH          LUBBOCK            TX   MESONET

1049 AM     NON-TSTM WND GST 1 SE RALLS              33.67N 101.38W
01/30/2021  M64 MPH          CROSBY             TX   MESONET

1049 AM     HIGH SUST WINDS  1 SE RALLS              33.67N 101.38W
01/30/2021  M44 MPH          CROSBY             TX   MESONET

1051 AM     HIGH SUST WINDS  4 S LEVELLAND           33.53N 102.36W
01/30/2021  M48 MPH          HOCKLEY            TX   MESONET

1051 AM     NON-TSTM WND GST 4 S LEVELLAND           33.53N 102.36W
01/30/2021  M61 MPH          HOCKLEY            TX   MESONET

1053 AM     HIGH SUST WINDS  6 NNE LUBBOCK           33.67N 101.82W
01/30/2021  M47 MPH          LUBBOCK            TX   ASOS

1053 AM     NON-TSTM WND GST 6 NNE LUBBOCK           33.67N 101.82W
01/30/2021  M58 MPH          LUBBOCK            TX   ASOS

1100 AM     NON-TSTM WND GST 8 WSW SUNDOWN           33.39N 102.61W
01/30/2021  M58 MPH          COCHRAN            TX   MESONET

1100 AM     HIGH SUST WINDS  8 WSW SUNDOWN           33.39N 102.61W
01/30/2021  M43 MPH          COCHRAN            TX   MESONET

0100 PM     HIGH SUST WINDS  HAPPY                   34.74N 101.84W
01/30/2021  M40 MPH          SWISHER            TX   MESONET

0117 PM     HIGH SUST WINDS  VIGO PARK               34.65N 101.50W
01/30/2021  M40 MPH          SWISHER            TX   MESONET